INTERVIEW – Stefan Kesche
When did you start practising triathlon? Did you practise other sports before?
Me and my brother used to play soccer and in 2009 we just took part in a triathlon for fun. Then it went on and on.  To defeat my brother 😉
How many triathlons of medium and long distance have you done?
Do you belong to a triathlon club? If so, which one?
Do you have a triathlon coach or do you set your own training routines?
What is your favourite triathlon discipline?
Where do you live? (country, province, town/city)
Germany, Nordrhein Westfalen, Moers
What is it triathlon training like where you live?
How many hours a day do you train?
from monday to friday max 1 hour per day. on the weekend about 2-3 hours per day
Do you have any favourite triathlete/s?
How many times have you participated in CHMALLORCA?
What is your challenge / objective for Challenge Peguera Mallorca 2021?
a new best time and before my brother through the finish line
Why is CHMALLORCA one of your chosen races?
it's not just the competition, every year i have a great time with friends and family. The organization and side activities are great
Besides competing in CHMALLORCA what other things do you enjoy doing here?
a nice time with friends and family
In your opinion, what is the highlight of the CHMALLORCA race?
difficult question because everything is really great. I would say the Majorcan Devils show
A word of advice to convince someone to participate in CHMALLORCA who has not yet done so?
if you really want to spend a fantastic time in a beautiful region and complete a first-class organized race there is no way around a start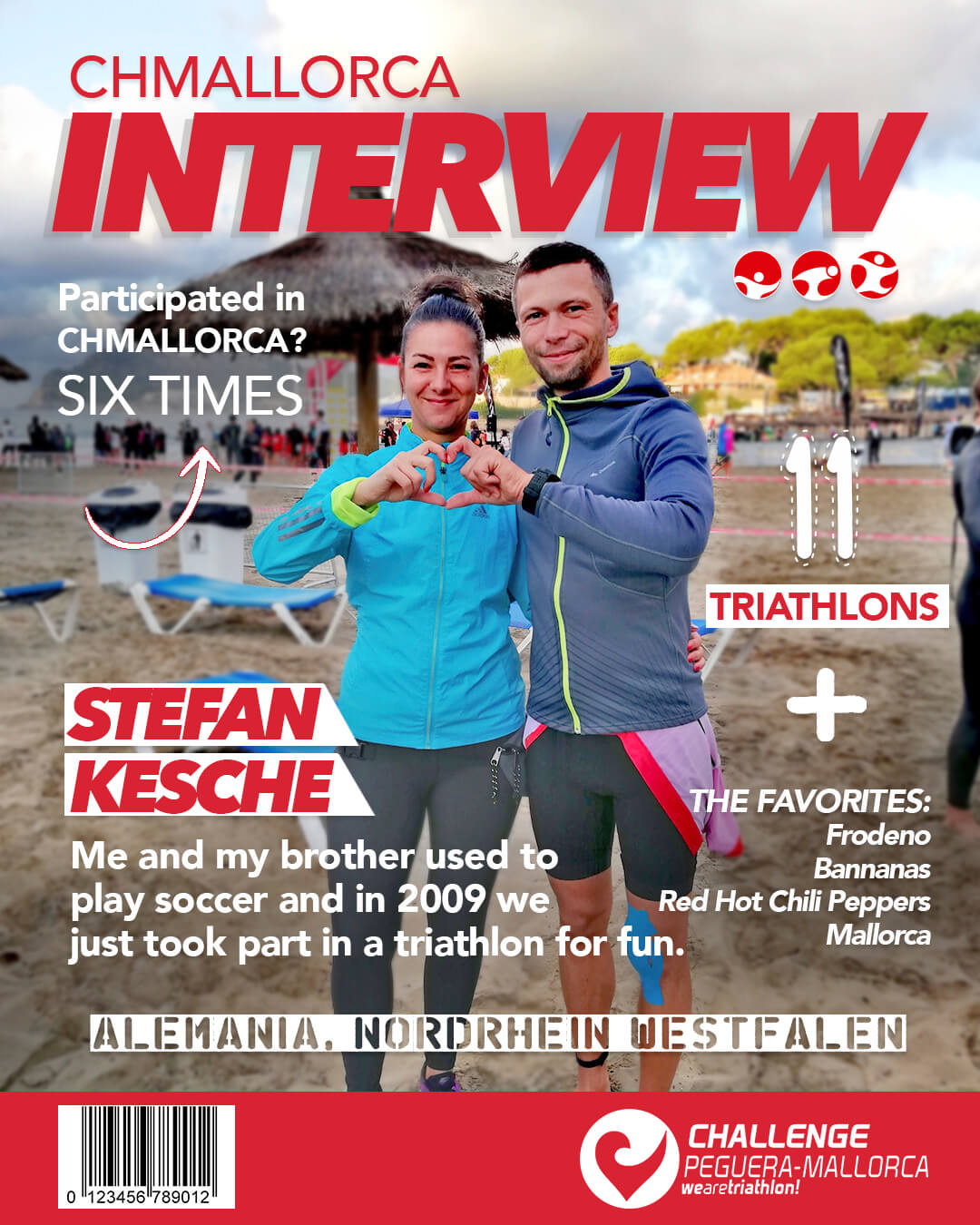 THE FAVORITES
| A reference (sportsperson, celebrity, team, etc.) | Your favourite food (and even better if you let us have the recipe!) | The song you would like to hear at the finishing line of CHMALLORCA2021 |
| --- | --- | --- |
| Frodeno | Bannanas | Red Hot Chili Peppers – Can't Stop |
| The band or record which is an ABSOLUTE MUST in your PLAYLIST: | A place to live | A destination to visit |
| --- | --- | --- |
| Red Hot Chili Peppers | Mallorca | Madagascar |