INTERVIEW – Petra Vermeer
When did you start practising triathlon? Did you practise other sports before?
I started swimming when I was 6 year old. I started with triathlon in 2014. I swam a few times in a relay as a swimmer and thought it would be fun to do it all by myself.  
How many triathlons of medium and long distance have you done?
Do you have a triathlon coach or do you set your own training routines?
I set my own training routines. 
What is your favourite triathlon discipline?
Where do you live? (country, province, town/city)
I live in Costa de la Calma in the province Calvia in Mallorca
What is it triathlon training like where you live?
I live close to the Challenge Peguera course, where training is great! I have the privilege to live close to the sea, which is very blue and often quiet.
How many hours a day do you train?
Normally 5 hours a week. When a race comes in sight I train up to 10 hours a week.
Triathlon is a sport that requires more training time than others. What is your secret to combining work, training, family, friends, leisure, etc?
I train while my two daughters are swimming. They train 6 times a week on different locations, that motivates!
Describe a day in your life:
I get up, bring my girls to school, walk the dog and start working (at home). After I get the grils from school, we eat something small and pack our stuff for swimming, running or cycling. After we come back, we eat dinner and I read something or do things that need to be done, while I drink tea.
Do you have any favourite triathlete/s?
How many times have you participated in CHMALLORCA?
What is your challenge / objective for Challenge Peguera Mallorca 2021?
Why is CHMALLORCA one of your chosen races?
It's closeby, great organised and the parcours is beautiful! I promised myself after I did my first race in 2016 that I want to do this race as long as I'm capable. So I picture myself as a granny crossing the fitnessline in 2050! 
Besides competing in CHMALLORCA what other things do you enjoy doing here?
Since 2017 my husband Jos also races. I like the days before. Registrate and drink something on the beach.
A word of advice to convince someone to participate in CHMALLORCA who has not yet done so?
A clear blue sea, a great ride in Calvia and running in cosy Peguera! A lot of spectators screaming and yelling, what an experience!
In your opinion, what is the highlight of the CHMALLORCA race?
The finish is always great, the food and drinks afterward with great weather!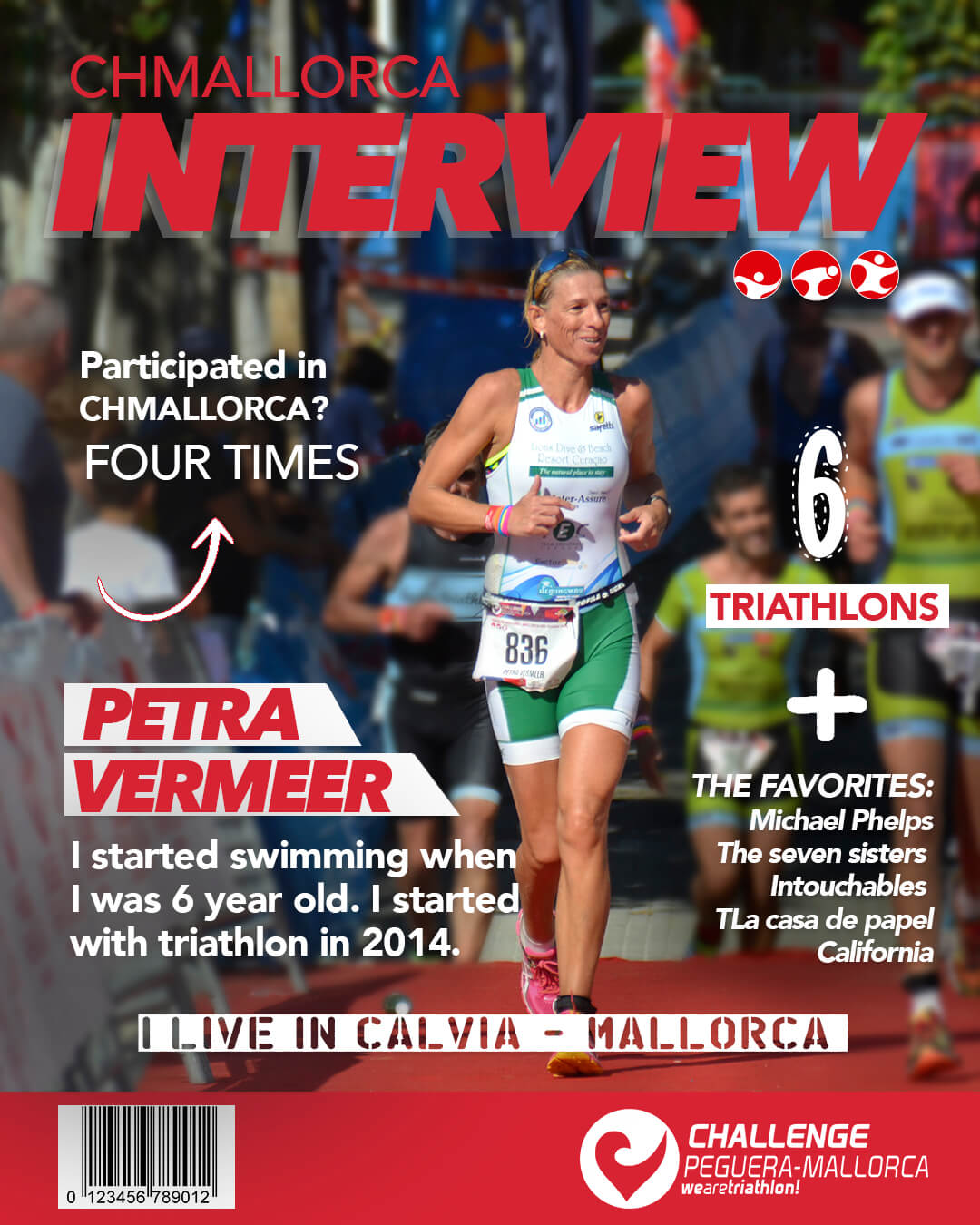 THE FAVORITES
A reference (sportsperson, celebrity, team, etc.)
Your favourite food (and even better if you let us have the recipe!)
A book:

Michael Phelps, Pieter van den Hoogenband.  

As a nutritionist I love healthy food. Everything whit a lot of vegetables I like.  

 

The seven sisters (all of them)
| A film | A Series | The band or record which is an ABSOLUTE MUST in your PLAYLIST |
| --- | --- | --- |
| Intouchables | La casa de papel | Mana |
| A place to live | The song you would like to hear at the finishing line of CHMALLORCA2021 |
| --- | --- |
| Mallorca or California | Thunder |