INTERVIEW – Fran Bungay
When did you start practising triathlon? Did you practise other sports before?
14 years ago, only sailing and hockey before. I started running first after I had kids, and a friend suggested a tri to me. 
How many triathlons of medium and long distance have you done?
Do you belong to a triathlon club? If so, which one?
Do you have a triathlon coach or do you set your own training routines?
I run my own triathlon business with my husband now and he coaches me.
What is your favourite triathlon discipline?
Where do you live? (country, province, town/city)
How many hours a day do you train?
Triathlon is a sport that requires more training time than others. What is your secret to combining work, training, family, friends, leisure, etc?
Finding a routine that works, and being prepared to be flexible.
Describe a day in your life:
Early mornings Train, PM work, computer based and sort out kids, EVENING coaching
Do you have any favourite triathlete/s?
I have great admiration on how they train, race,travel and some also work, Lucy Gossage was a great example of this. Its a shame there is not more money in the sport for the pros.
How many times have you participated in CHMALLORCA?
What is your challenge / objective for Challenge Peguera Mallorca 2021?
Not get stung on the face by a jelly fish again! 🙂
Why is CHMALLORCA one of your chosen races?
It is an incredibly athlete friendly event, a fantastic course, beautiful setting and lovely to get some sunshine in October.
Besides competing in CHMALLORCA what other things do you enjoy doing here?
A word of advice to convince someone to participate in CHMALLORCA who has not yet done so?
Its usually very hot, so make sure you hydrate well and fuel well, otherwise the run will be really painful!
In your opinion, what is the highlight of the CHMALLORCA race?
I love the bike course, and as hard as the run is, the atmosphere is always amazing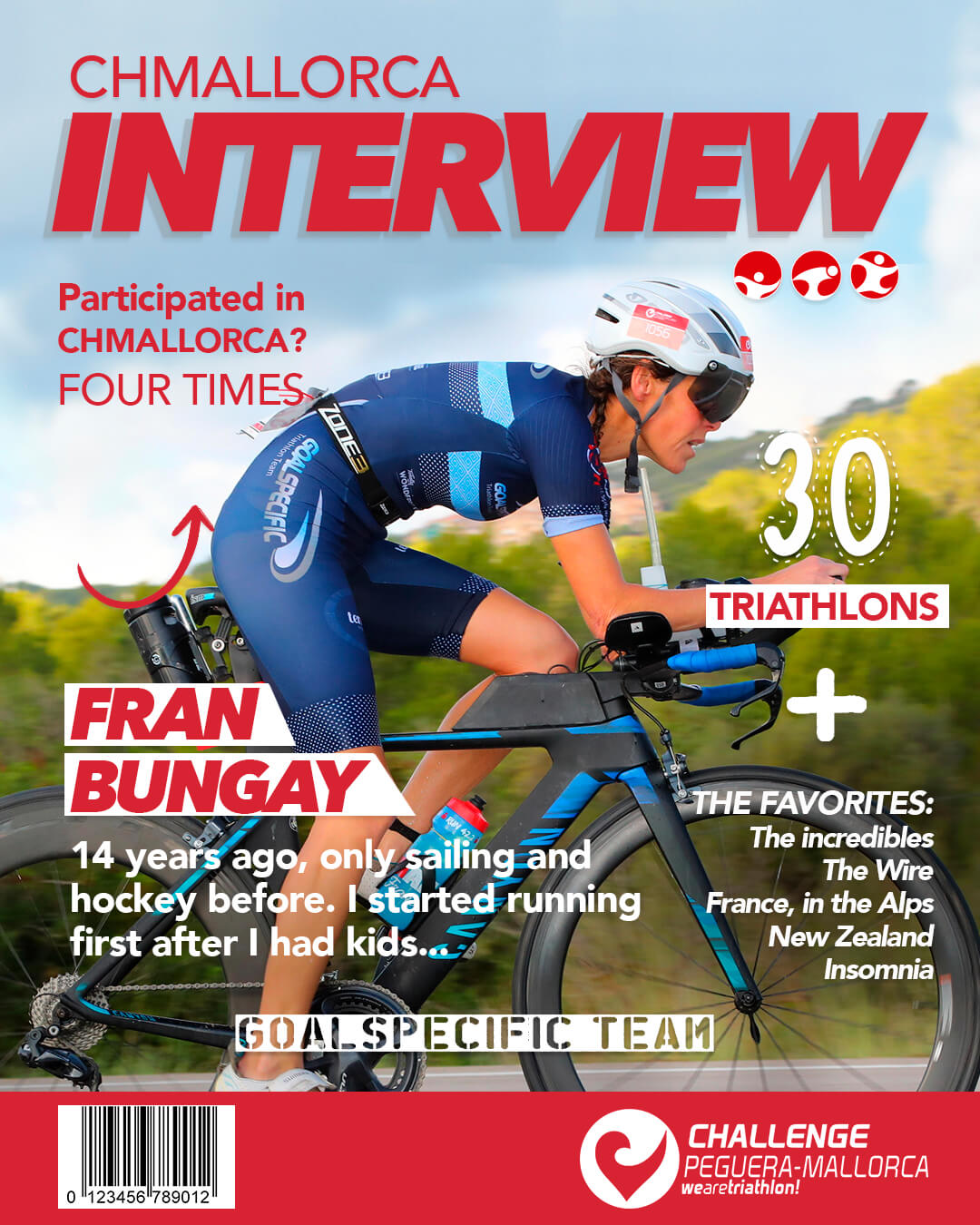 THE FAVORITES
| A reference (sportsperson, celebrity, team, etc.) | Your favourite food (and even better if you let us have the recipe!) | A book: |
| --- | --- | --- |
| All our athletes in the Goalspecific Team – they are amazing! | Peanut butter and banana on toast | Midnights children, S. Rushdie |
| A film | A Series | The band or record which is an ABSOLUTE MUST in your PLAYLIST |
| --- | --- | --- |
| The incredibles | The Wire | chase and status plan B |
| A place to live | A destination to visit | The song you would like to hear at the finishing line of CHMALLORCA2021 |
| --- | --- | --- |
| France, in the Alps | New Zealand | insomnia |