Challenge Mallorca Middle Distance triathlon

19th October 2024
1,9 km swim – 90 km bike – 21,1 km run
The Challenge Peguera-Mallorca middle distance triathlon has all the features you may ask for in a triathlon:
A golden beach with

crystal

 

clear

 

water (Torà beach)

A technical bike route through an amazing countryside scenery

An urban and littoral running course full of enthusiastic people cheering.
The European season ends in paradise. The Challenge Peguera Mallorca is the perfect middle distance triathlon to close your year in the heart of the Mediterranean.
Are you ready to Challenge this?
"Tough, but brilliant course. A full festival athmosphere with something for everyone. Incredibly well organised and supported. I've raced twice and will be back". Tristan Matthews 

Challenge Peguera is just a fantastic race. I love the courses, especially swimming & biking and the great spirit and support of all the 'helping hands' – si, se puede! Also the surrounding program incl. races on Fridays makes the whole stay an enjoyable family event. Bjoern Sprung

It's the best end to a season. Great weather every time, great surroundings, great organisation, fantastic atmosphere. Favourite race of the year! Chris Minto

In the 2017 edition the event reached it's limit (sold out), with an increase of 57% over the previous year." 2018 and 2019 continues the SOLD OUT.
Challenge Mallorca triathlon
Race information
Are you thinking to race the amazing Challenge Peguera Mallorca middle triathlon? 
Challenge Mallorca middle distance triathlon
Swim course (1,9 km)
The swimming circuit takes place entirely in the beautiful, central and busy Playa de Torà. This is a SPECTACULAR segment, as from the 2022 edition participants will swim the 1.9 km in two laps, exiting the water to re-enter again.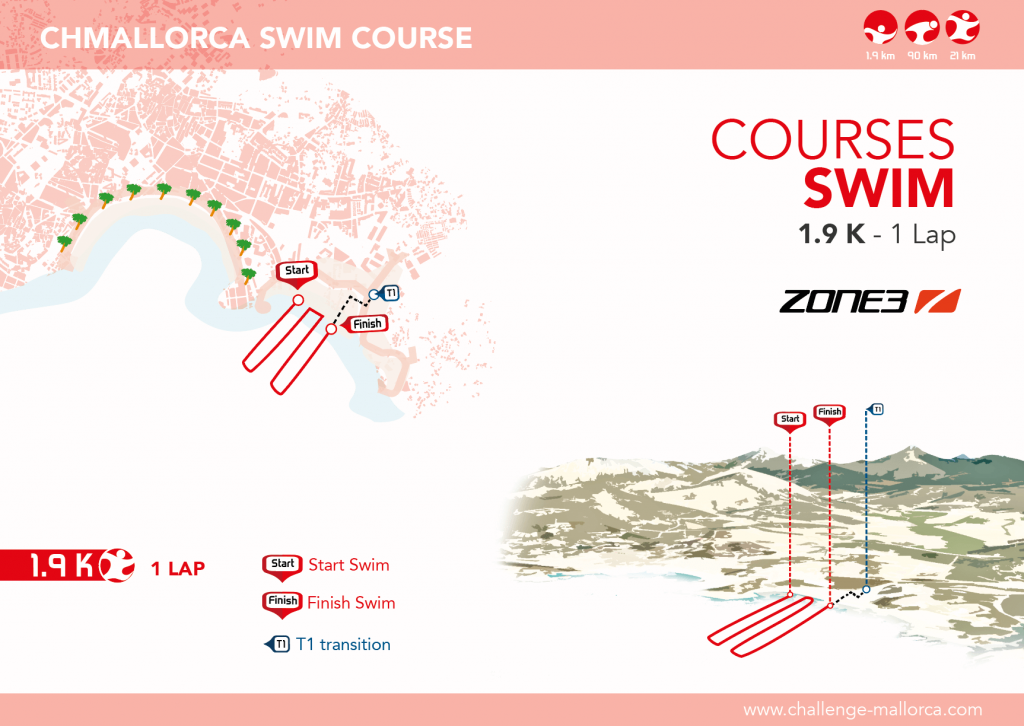 Bike course (90 km)
Mallorca owes much to its reputation as one of the most picturesque and spectacular 70.3 triathlons to its bike course. One thing is for sure: it's not completely flat. It has some rolling and some hilly segments but also speedy sections where bikes can speed up to 60km/h. The course is full of landscapes, it's technical and demanding and at times faster than other triathlon courses.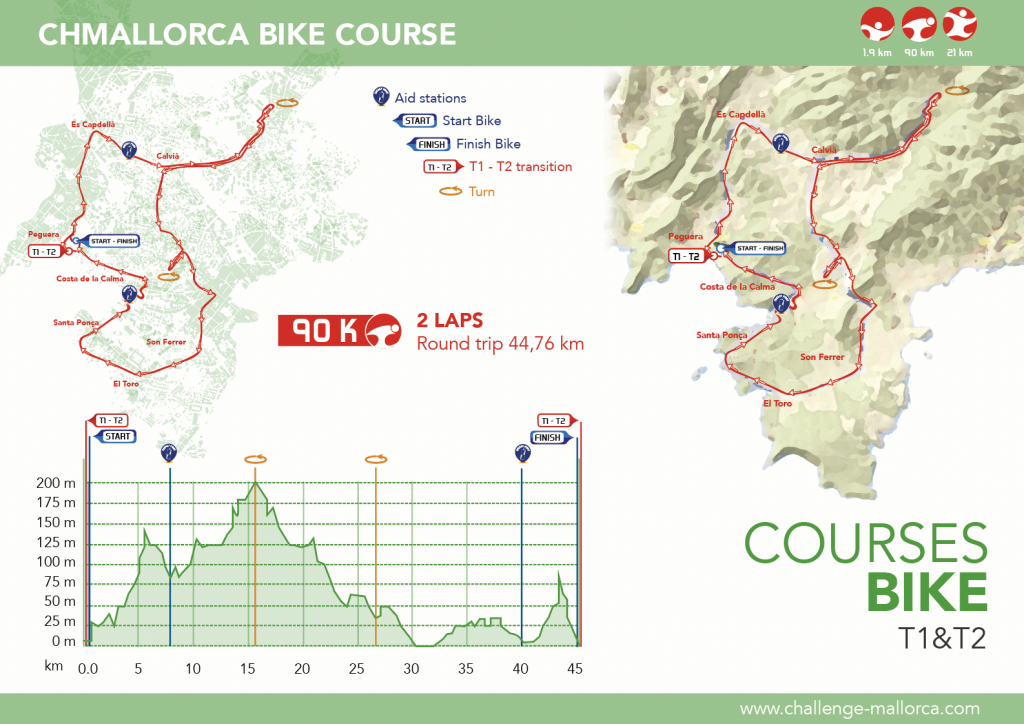 Run course (21 km)
For the 2016 edition we have made different changes in the run circuit in order to make it more flat and giving value to the most spectacular areas of Peguera: the maritime broadwalk and the boulevard. The result is an entertaining circuit that runs through the center of the village, with public and animation throughout the race.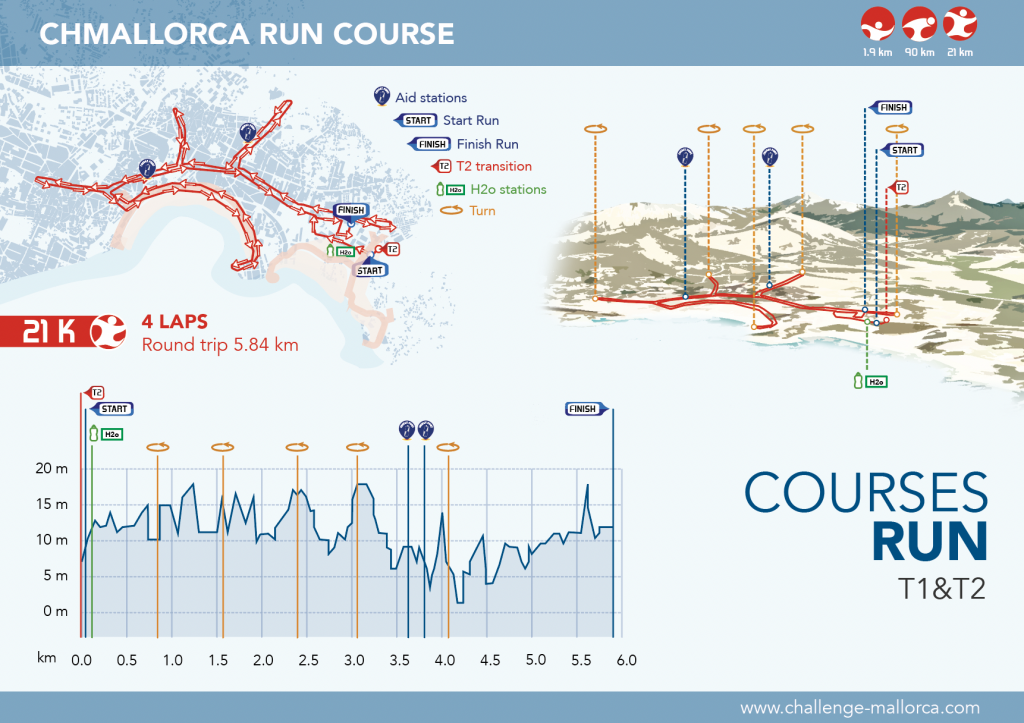 What's in the Challenge Race Kit?
At registration all athletes will receive a bag containing the following items:
backpack
Athlete wristband
green bag (post race)
red bag (bike)
blue bag (run)
Coloured swim cap
tattoo (swim course)
BIB number
Bib number for your bike
CHFAMILY Nutrition guide
start number
envelope with number stickers (helmet 3 for your transition bags) 1 Bike cover
… and more surprises!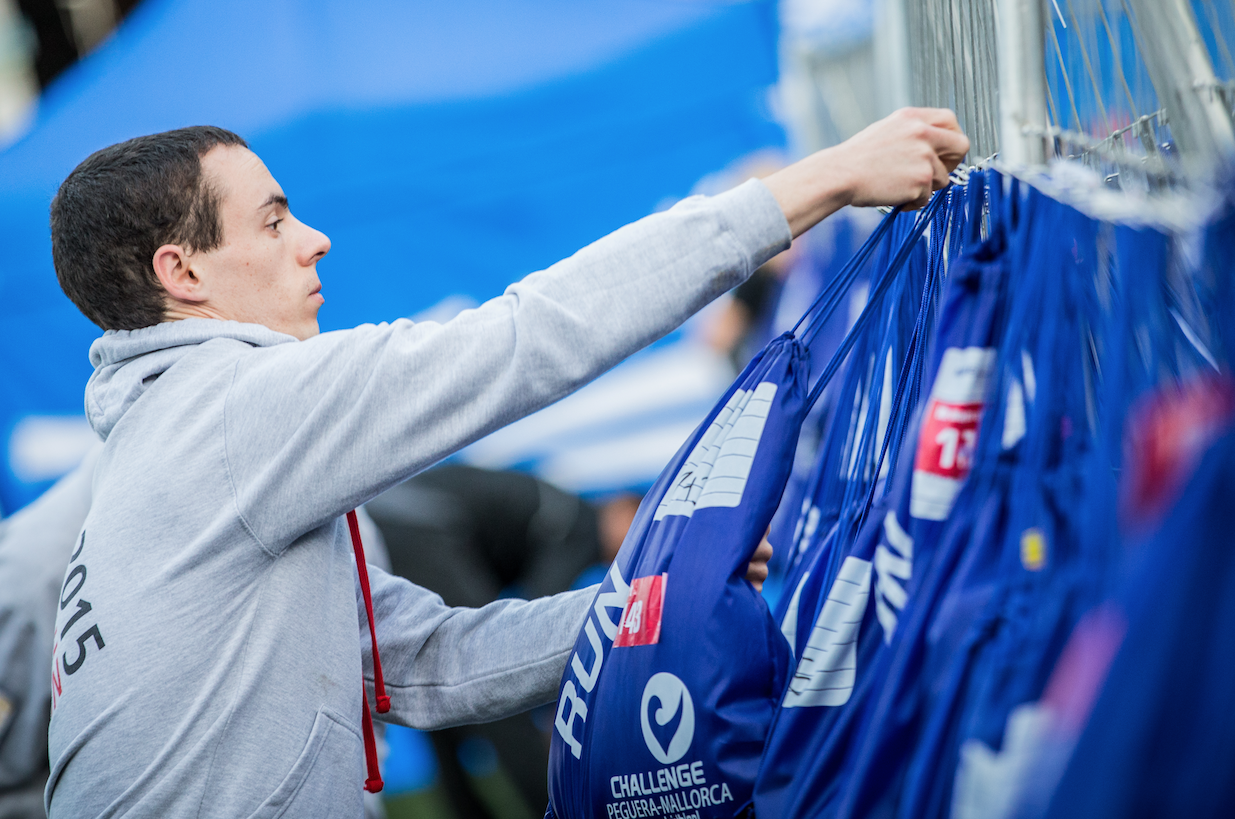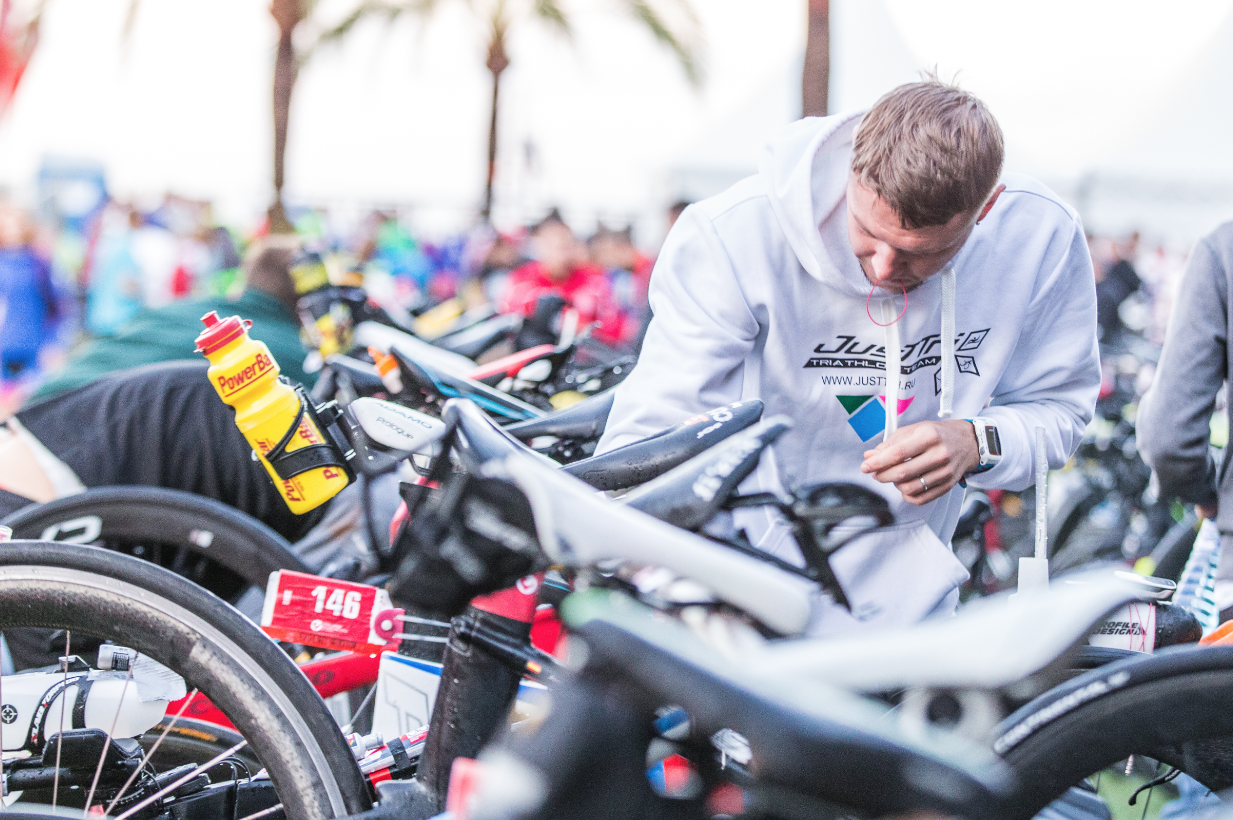 TIME SCHEDULE
Here you have the schedule of the race day. If you want to know all the race week program (parallel activities, etc.) of the Challenge Peguera Mallorca, press here
SATURDAY 19TH OF OCTOBER
TIME
ACTIVITY
LOCATION
8:25 to 8:40 h

Warm up

CHMALLORCA middle and relay

Torà

beach

8 to 8:45 h

Swim

warm up

Torà

beach

9 h

Start

CHMALLORCA middle and relay

Torà

beach

10 h

Expo &

Fair

Finish line area (Plaza de Torà) (map)
10:35 h

Swim cut

off time

T1&T2

13:30 h

Flower

ceremony middle distance PRO men

Finish line area (Plaza de Torà) (map)
14:30 h

Flower

ceremony middle distance PRO women

Finish line area (Plaza de Torà) (map)
14:30 h

Bike cut

off time 1

KM 75 of

the bike course

15:15 h

Bike cut

off time 2

T1&T2

15:30 to 19 h

Bike

storage opens for pick up bike

T1&T2

19 h

Awards

ceremony

Finish line area (Plaza de Torà) (map)

20 h

Closing

event

Finish line area (Plaza de Torà) (map)

CHMALLORCA

racers party

Beverly

playa hotel