Challenge Mallorca Middle Distance triathlon

19 oktober 2024
1,9 km zwemmen – 90 km fietsen – 21,1 km hardlopen
The Challenge Peguera-Mallorca De Middle Distance van Challenge Peguera-Mallorca heeft álles wat je je maar kan wensen voor een triathlon:
Een wit strand met kristalhelder water (Torà Beach)

Een technisch fietsparcours door een verbazingwekkend
landschap en een loopparcours door de stad en langs de kust, vol met enthousiast juichende mensen.
Het Europese triathlonseizoen eindigt in het paradijs. Challenge Peguera-Mallorca is de perfecte Middle Distance triathlon om je jaar af te sluiten in het hart van de Middellandse Zee.
"Zwaar, maar briljant parcours. Een heerlijke festivalsfeer met voor ieder wat wils. Ongelooflijk goed georganiseerd. Ik heb twee keer meegedaan en kom zeker terug". Tristan 

Challenge Peguera is just a fantastic race. I love the courses, especially swimming & biking and the great spirit and support of all the 'helping hands' – si, se puede! Also the surrounding program incl. races on Fridays makes the whole stay an enjoyable family event. Bjoern 

It's the best end to a season. Great weather every time, great surroundings, great organisation, fantastic atmosphere. Favourite race of the year! Chris
Challenge Mallorca triathlon
Wedstrijdinformatie
Denk je erover om de geweldige Middle Distance Challenge Peguera-Mallorca te racen? Neem dan een kijkje in ons wedstrijdmagazine van 2022 om alle interessante dingen te zien die van belang kunnen zijn als je mee wil doen!
Challenge Mallorca middle distance triathlon
Zwemparcours (1,9 km)
Die Schwimmstrecke findet vollständig in der schönen, zentralen und belebten Playa de Torà statt. Es handelt sich dabei um einen SPECTACULAR-Abschnitt, denn ab der Ausgabe 2022 werden die Teilnehmer die 1,9 km in zwei Runden schwimmen, wobei sie das Wasser verlassen und wieder einsteigen.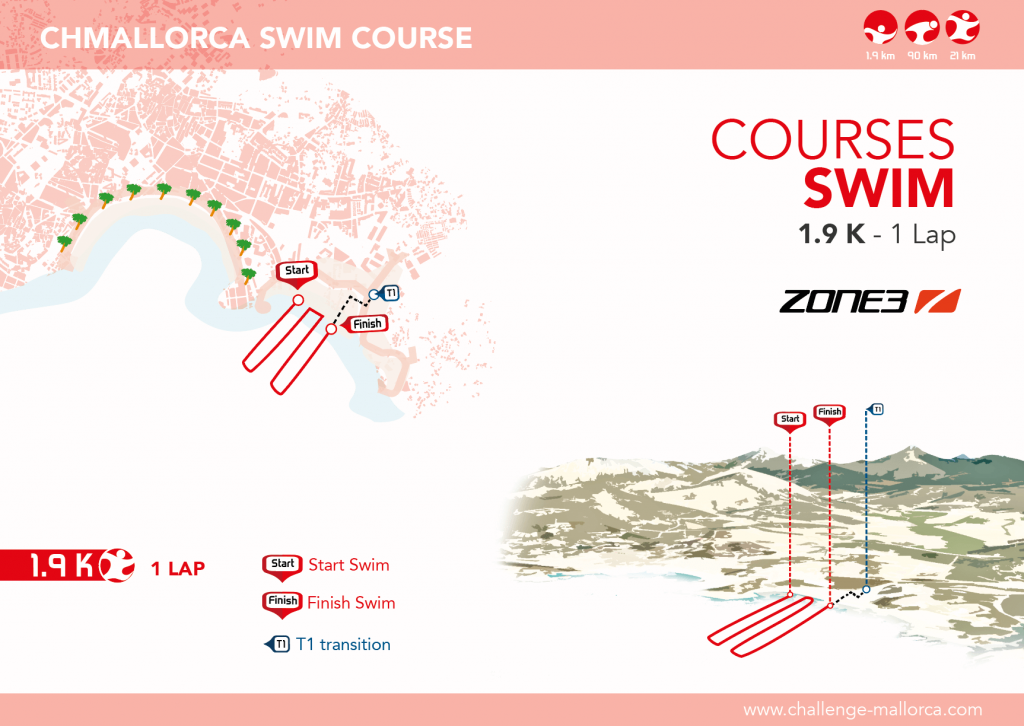 Fietsparcours (90 km)
Mallorca dankt zijn reputatie als een van de meest pittoreske en spectaculaire Middle Distance triatlons voor een groot deel aan zijn fietsparcours. Eén ding is zeker: het is niet helemaal vlak. Er zijn glooiende en heuvelachtige stukken, maar ook snelle stukken waar de snelheid kan oplopen tot 60 km/u. Het parcours voert langs prachtige landschappen, het is technisch en veeleisend en soms sneller dan andere triatlons.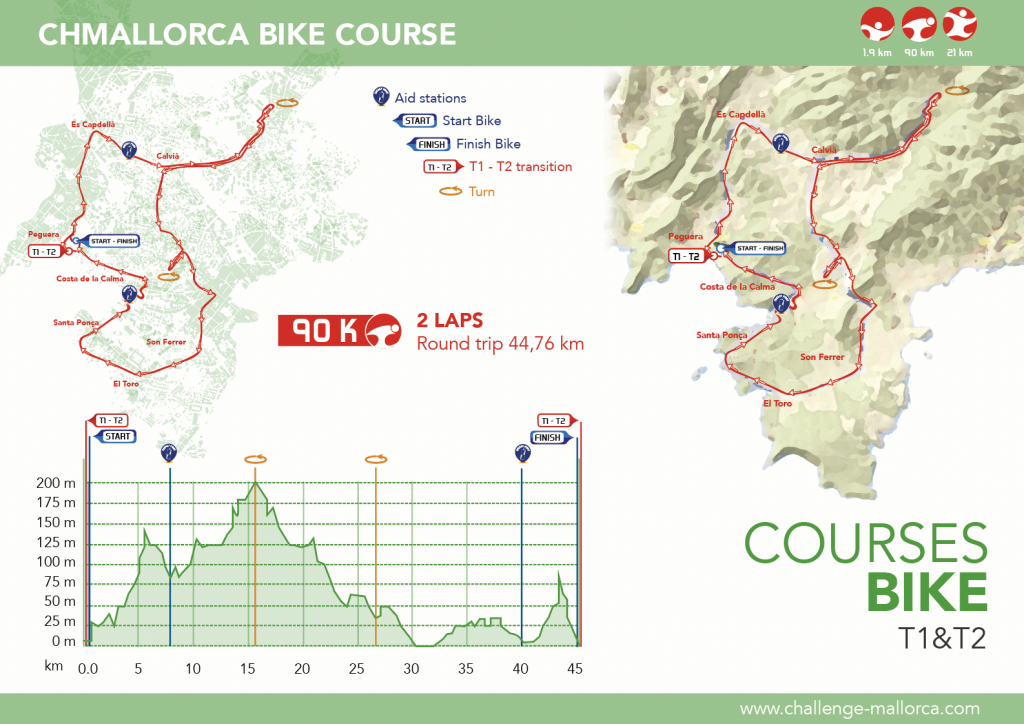 Loopparcours (21 km)
Voor de editie van 2016 hebben we verschillende wijzigingen aangebracht in het loopparcours om het meer vlak te maken en waarde te geven aan de meest spectaculaire gebieden van Peguera: de maritieme promenade en de boulevard. Het resultaat is een vermakelijk loopparcours dat door het centrum van het dorp loopt, met publiek en animatie gedurende de hele race.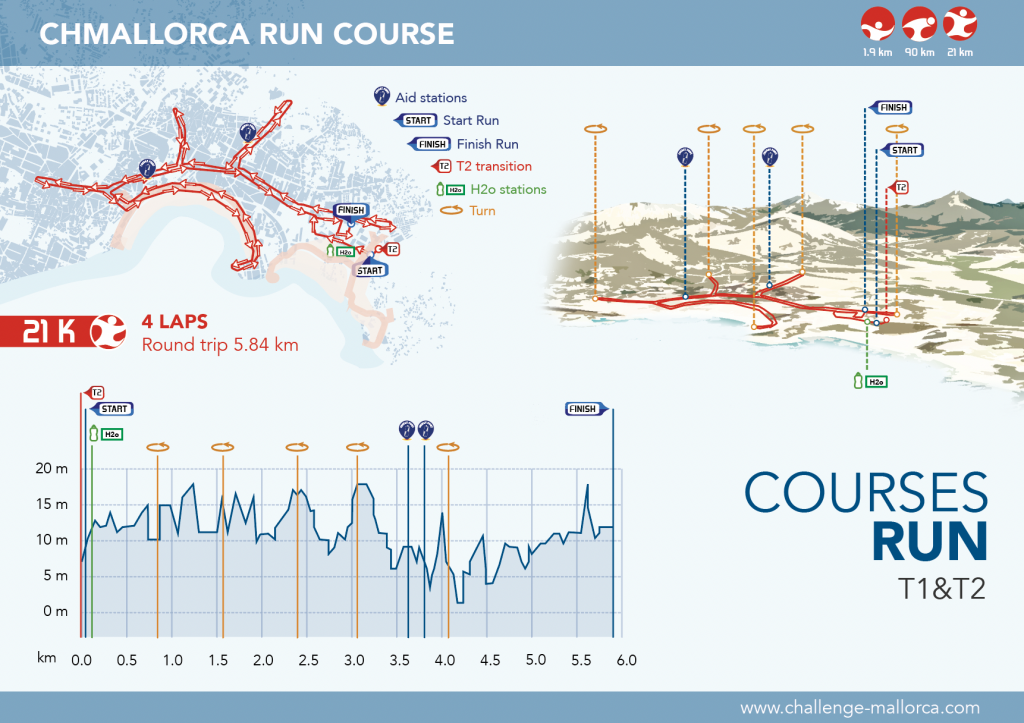 Wat zit er in de Challenge Race Kit?
Bij de inschrijving ontvangen alle atleten een tas met daarin de volgende items:
rugzak

polsbandje atleet
groene tas (na de race)
rode tas (fiets)
blauwe tas (lopen)
Gekleurde badmuts
tatoeage (zwemparcours)
startnummernummer
startnummer voor uw fiets
CHFAMILY Voedingsgids
1 Fietshoes
envelop met nummerstickers (helm en 3 voor je overgangstassen)1 Fietshoes
… en nog meer verrassingen!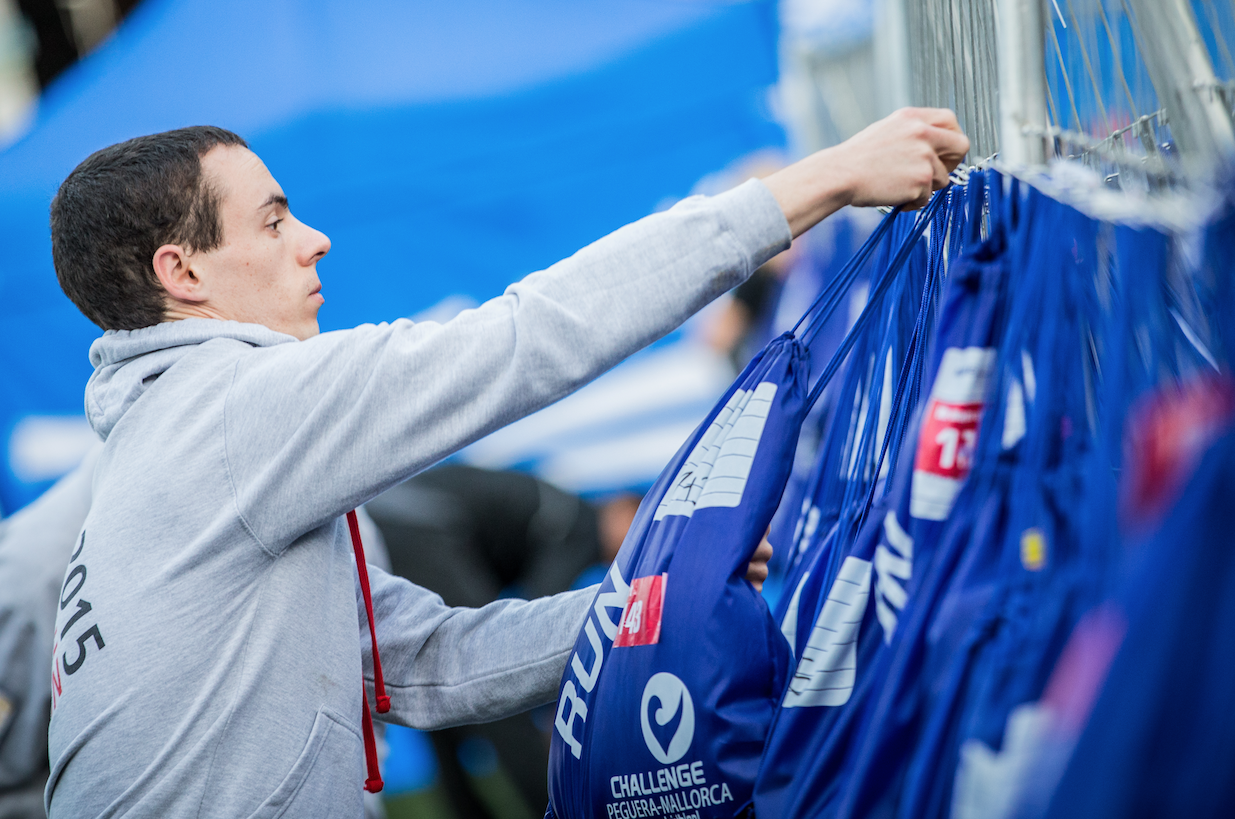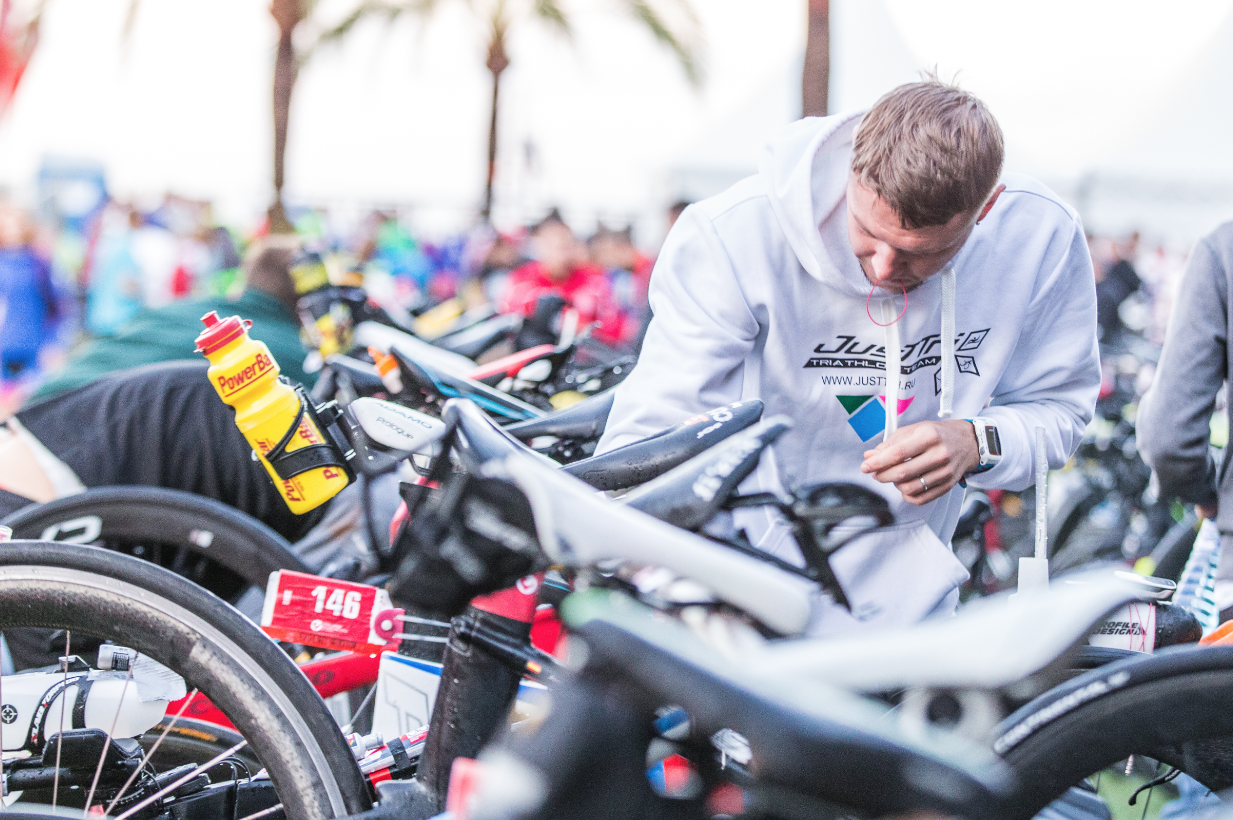 TIJDSCHEMA
Hier heb je het schema van de wedstrijddag. Als je het volledige programma van de wedstrijdweek (inclusief side-events, enz.) van Challenge Peguera-Mallorca wil bekijken, klik dan hier
SATURDAY 19TH OF OCTOBER
TIME
ACTIVITY
LOCATION
8:25 to 8:40 h

Warm up

CHMALLORCA middle and relay

Torà

beach

8 to 8:45 h

Swim

warm up

Torà

beach

9 h

Start

CHMALLORCA middle and relay

Torà

beach

10 h

Expo &

Fair

Finish line area (Plaza de Torà) (map)
10:35 h

Swim cut

off time

T1&T2

13:30 h

Flower

ceremony middle distance PRO men

Finish line area (Plaza de Torà) (map)
14:30 h

Flower

ceremony middle distance PRO women

Finish line area (Plaza de Torà) (map)
14:30 h

Bike cut

off time 1

KM 75 of

the bike course

15:15 h

Bike cut

off time 2

T1&T2

15:30 to 19 h

Bike

storage opens for pick up bike

T1&T2

19 h

Awards

ceremony

Finish line area (Plaza de Torà) (map)

20 h

Closing

event

Finish line area (Plaza de Torà) (map)

CHMALLORCA

racers party

Beverly

playa hotel