Challenge Paguera Mallorca mitteldistanz triathlon

14. Oktober 2023
1,9 km swim – 90 km bike – 21,1 km run
Challenge Paguera Mallorca mittledistanz triathlon. Schwimme gemeinsam mit anderen zwischen zwei wunderschönen mallorquinischen Stränden (Torà, Pegeura). Bringe dein Rad auf dem schnellen und variationsreichen Parcours auf Hochtouren und genieße dabei traditionelle Ortschaften und das spektakuläre Traumuntana Gebirge. Renne entlang des stark besuchten und voller Leben pulsierenden Boulevards und lass dich von den Zuschauermassen zu neuen persönlichen Bestzeiten beflügeln.
Nutze die Zeit gemeinsam mit deiner Familie, deinen Freunden und Bekannten, neben dem Triathlongeschehen, die wunderschöne Insel Mallorca mit all seinen Facetten kennen zulernen (Gastronomie, Kultur, Unterhaltung, Kinderprogramm, Sport und vieles mehr.)
Vergiss nie: wir sind Challenge Family , Challenge Paguera, wir sind Triathlon, wir sind Mallorca.
Are you ready to Challenge this?
!! Eine mega Veranstaltung!!!

Von Anfang bis Ende.

6 Mal Challenge Peguera und bei allen dabei gewesen. Veranstalter und Helfer geben sich wirklich viel Müihe für die Sportler. Jedes Jahr hat sich die Veranstaltung weiterentwickelt. Die Stimmung ist super an der Strecke und in ganz Peguera an dem race. Mariella (2019)

Tough, but brilliant course. A full festival athmosphere with something for everyone. Incredibly well organised and supported. I've raced twice and will be back. Tristan 

Challenge Peguera is just a fantastic race. I love the courses, especially swimming & biking and the great spirit and support of all the 'helping hands' – si, se puede! Also the surrounding program incl. races on Fridays makes the whole stay an enjoyable family event. Bjoern

It's the best end to a season. Great weather every time, great surroundings, great organisation, fantastic atmosphere. Favourite race of the year! Chris
Race information
Hier erfahren Sie alles, was Sie über den Wettkampf wissen müssen. Betrachten Sie das gesamte Programm dieses Triathlon-Wochenendes.
Schwimmstrecke (1,9 km)
Die Schwimmstrecke findet vollständig in der schönen, zentralen und belebten Playa de Torà statt. Es handelt sich dabei um einen SPECTACULAR-Abschnitt, denn ab der Ausgabe 2022 werden die Teilnehmer die 1,9 km in zwei Runden schwimmen, wobei sie das Wasser verlassen und wieder einsteigen. (T1)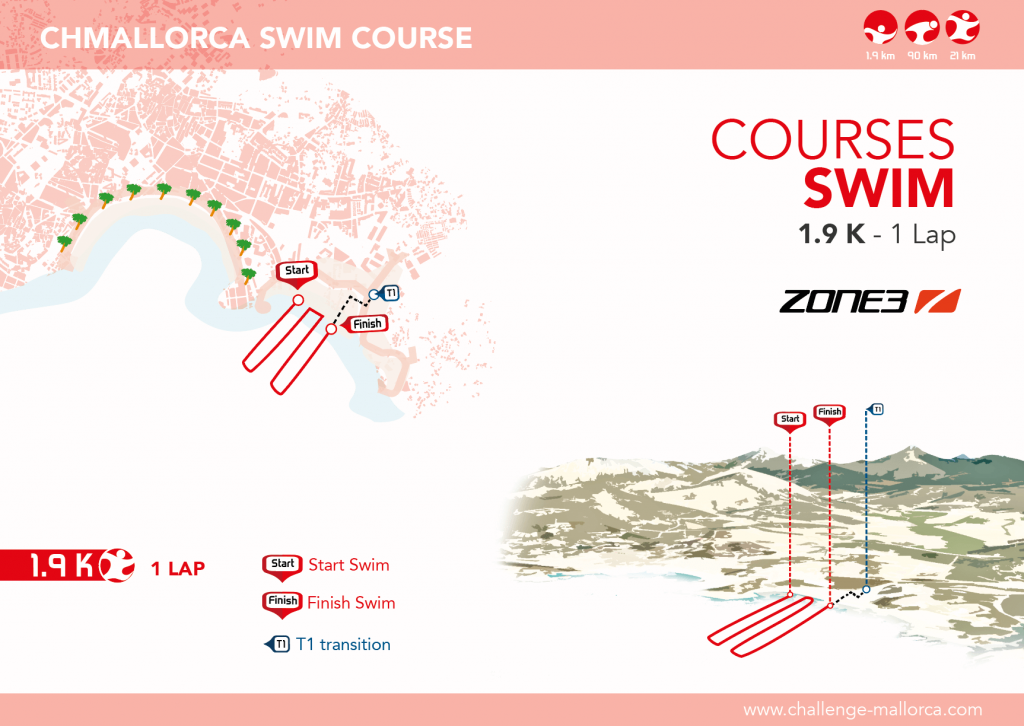 Radstrecke (90 km)
Die Radstrecke führt von Peguera über Es Capdellà, ein schönes, traditionelles Dörfchen, nach Calvià. Es geht weiter durch die Fremdenverkehrsgebiete Calvià, Palmanova, Magaluf, El Toro, Santa Ponça entlang der Küste bis zum Ziel in Peguera.)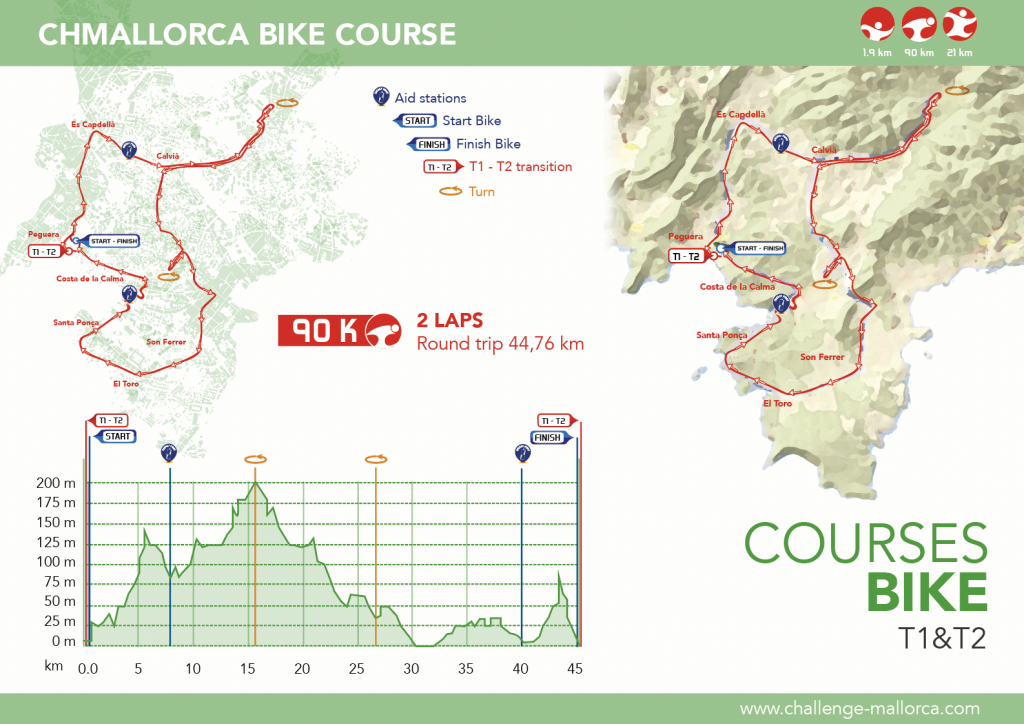 Laufstrecke (21 km)
Die Laufstrecke der Challenge Peguera Mallorca verläuft zur Gänze im Zentrum von Peguera. Es ist abwechslungsreich und anspruchsvoll. Die Ziellinie befindet sich im Zentrum Peguera, auf dem Platz, der den Strand von Torà mit dem Boulevard verbindet.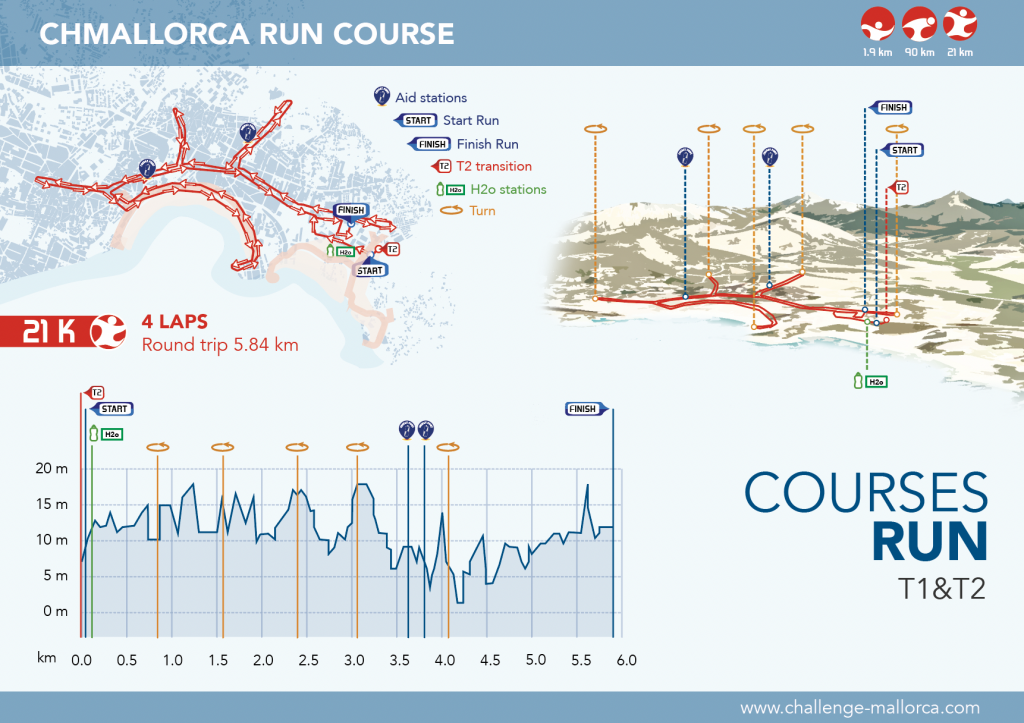 WAS IST INBEGRIFFEN?
At registration all athletes will receive a bag containing the following items:
Anmeldung für die Halbe Distanz
Eintrittskarte für die Pasta Party
Finisher-Shirt
Rucksack mit einem Willkommenspaket mit mehreren Geschenken
Medaille (mit KOSTENLOSER Gravur!)
Badekappe für Schwimmkurs
Zugang zum Buffet nach dem Rennen
Drei Übergangstaschen
Pflege während des Rennens (Essen und Trinken)
Medizinische Versorgung (falls erforderlich) während und nach dem Rennen
Zugang zu Massagen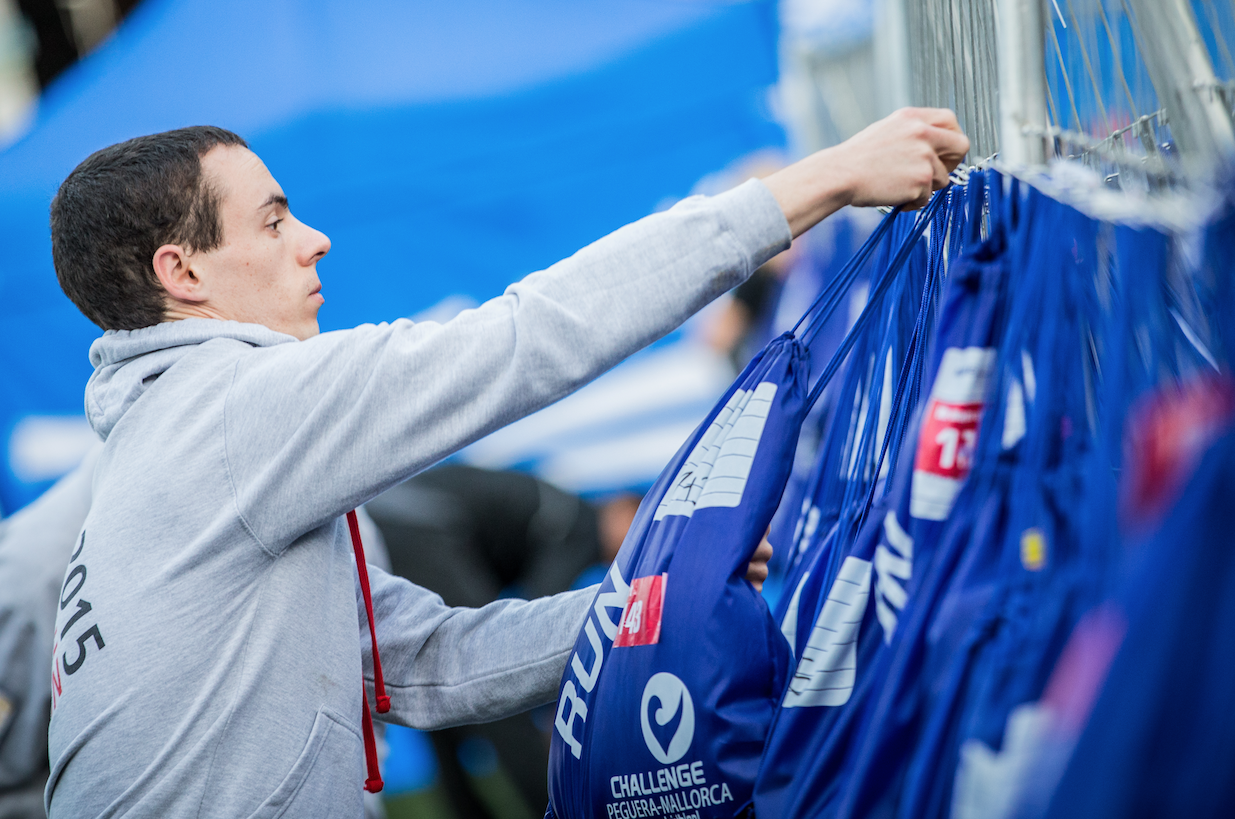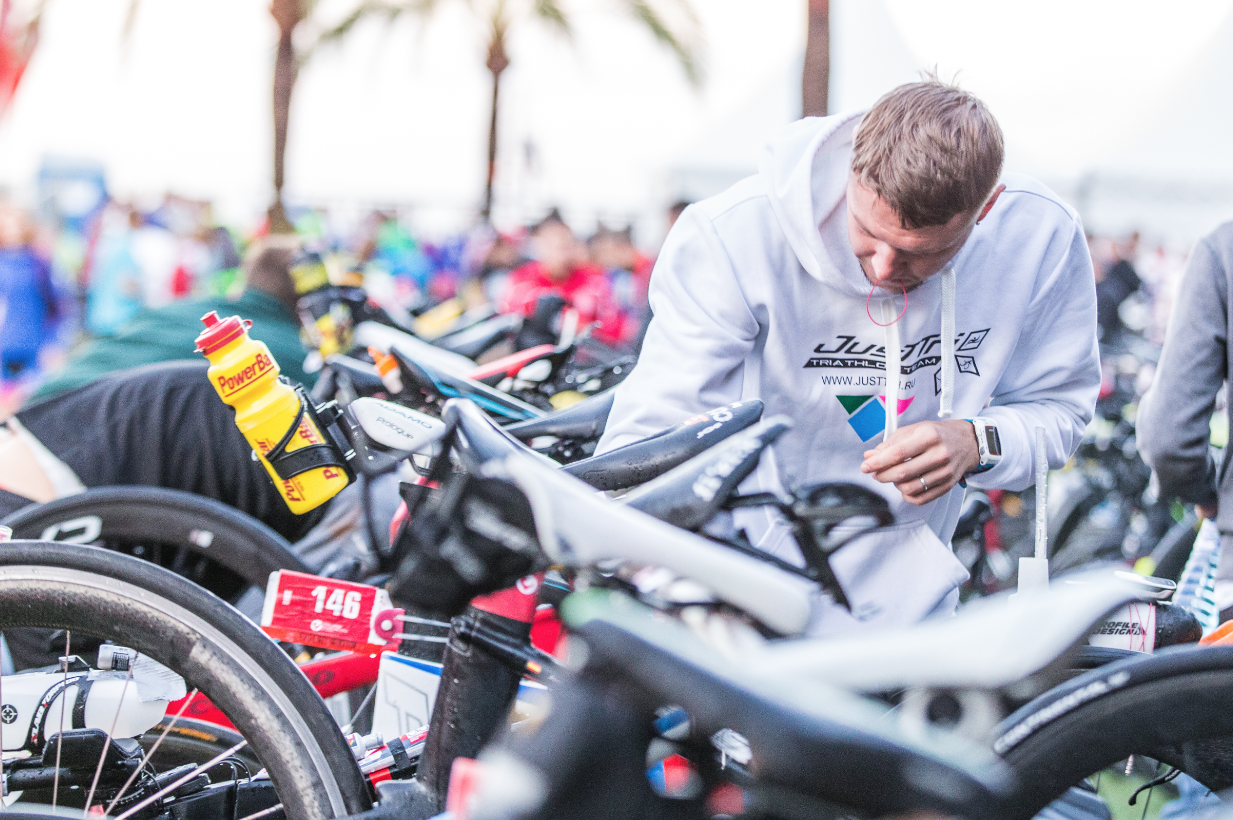 CHALLENGE MALLORCA TRIATHLON ZEITPLAN
Wir haben vor, dir mit CHALLENGE PEGUERA MALLORCA TRIATHLON ein umfassendes Erlebnis zu bieten, das über ein großartiges Triathlon-Event hinausgeht. Mit diesem Ziel vor Augen haben wir ein umfangreiches Programm erstellt, das den Triathleten und ihren Familien parallel zum Sportereignis vielfältige Aktivitäten bietet und einen unterhaltsamen Aufenthalt garantiert.
VORLÄUFIGER ZEITPLAN 

SAMSTAG 14. OKTOBER 2023
ZEIT
AKTIVITÄT
ORT
8:25 to 8:40 h

Warm up

CHMALLORCA middle and relay

Torà

beach

8 to 8:45 h

Swim

warm up

Torà

beach

9 h

Start

CHMALLORCA middle and relay

Torà

beach

10 h

Expo &

Fair

Finish line area (Plaza de Torà) (map)
10:35 h

Swim cut

off time

T1&T2

13:30 h

Flower

ceremony middle distance PRO men

Finish line area (Plaza de Torà) (map)
14:30 h

Flower

ceremony middle distance PRO women

Finish line area (Plaza de Torà) (map)
16:30 h

Bike cut

off time 1

KM 75 of

the bike course

15:15 h

Bike cut

off time 2

T1&T2

15:30 to 19 h

Bike

storage opens for pick up bike

T1&T2

19 h

Awards

ceremony

Finish line area (Plaza de Torà) (map)

20 h

Closing

event

Finish line area (Plaza de Torà) (map)

CHMALLORCA

racers party

Beverly

playa hotel