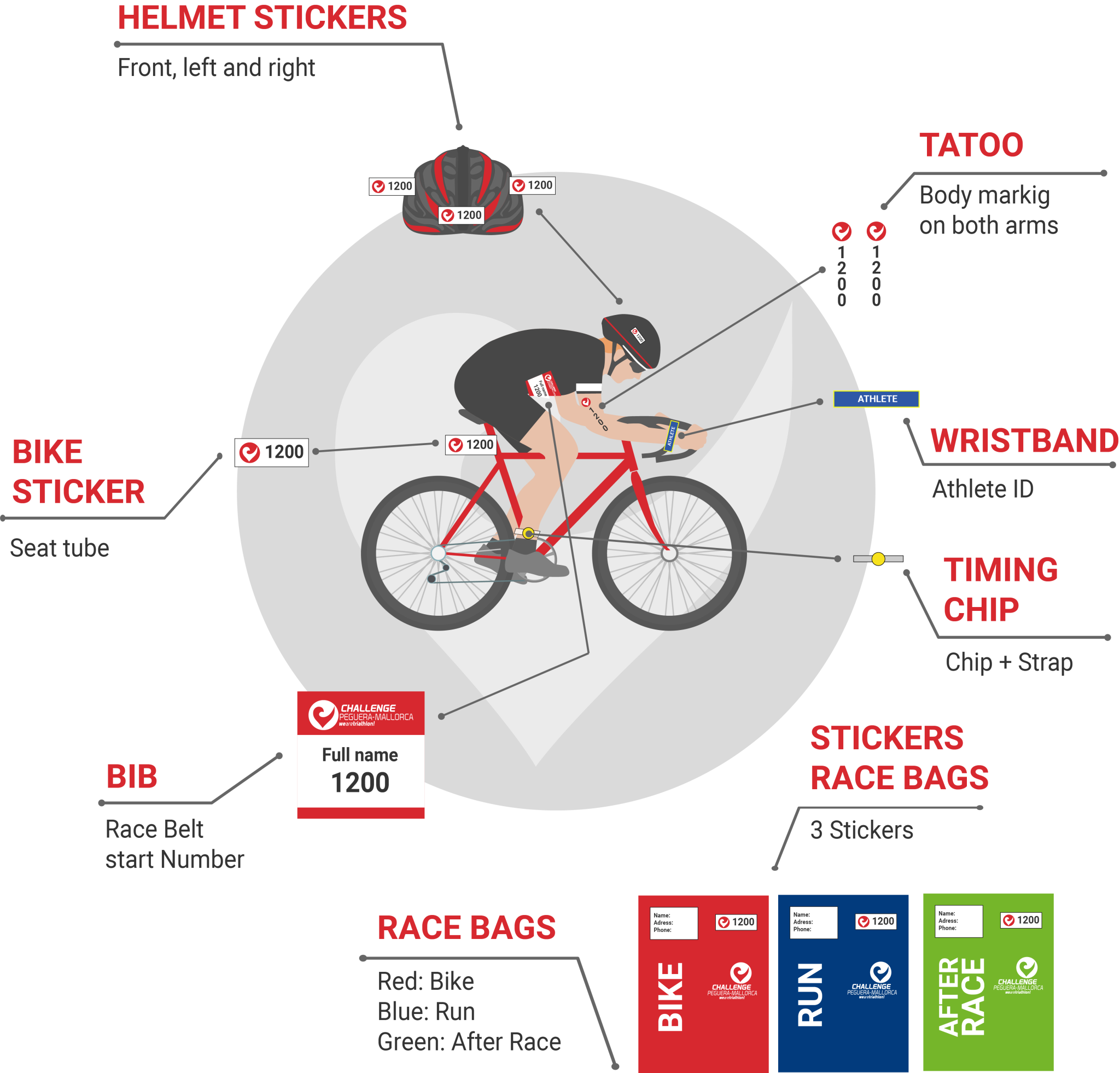 REGISTRATION, BIKE CHECK IN, BIKE CHECK OUT
| TAG | UHRZEIT | | ORT |
| --- | --- | --- | --- |
| Donnerstag, 12. Oktober | 15 to 20 h | Registration | EXPO UND FAIR |
| Freitag, 13. Oktober | 10 to 20 h | Registration | EXPO UND FAIR |
| Freitag 13, Oktober | 15.30 to 20 h | Bike check in | T1 & T2 ZONE |
| Samstag | 15.30 to 20 h | Bike check out | T1 & T2 ZONE |
WECHSELBEUTEL RAD, WECHSELZONE 1
Denke daran, folgende Gegenstände in den Beutel zu packen: Startnummer, Brillen, Helm, Fahrradschuhe (wenn sie nicht an den Pedalen des Fahrrads angebracht sind), Proviant.
WECHSELBEUTEL LAUFEN, WECHSELZONE 2
Denke daran, in diesen Beutel die Startnummer, Startnummernband, Laufschuhe, Socken, Sonnenbrillen, Kappe, Gels und Proviant zu packen.

CHECK OUT
Um Zugang zur BEUTELAUSGABE zu erhalten, musst du dem Wachpersonal an der Tür dein Identitätsarmband vorweisen. Um dein Fahrrad und deine Beutel abzuholen, musst du beim Verlassen des Bereichs neuerlich dem Wachpersonal dein Armband vorweisen.
Sicherheitsvorkehrungen beim Abholen des Fahrrads:
Um dein Fahrrad im Bike Park abzuholen, musst du deine Startnummer sowie die Nummer deines Fahrrads und deines Helms vorweisen. Sie müssen übereinstimmen.
Uhrzeiten für die Fahrradabholung: Samstag (T1&T2 // 15.30 – 20 h)

KENNENLERNEN DER STRECKEN
Am Freitag, 13. Oktober, werden alle Strecken der Challenge Peguera-Mallorca gekennzeichnet sein. Du kannst auf ihnen trainieren.
Die Schwimmstrecke wird durch Bojen gekennzeichnet.
Die Radstrecke wird mit Markierungen gekennzeichnet.
Die Laufstrecke wird mit Markierungen gekennzeichnet.
** The event will follow the latest rules of competition published by the International Triathlon Union, which can be found here.