CHMALLORCA23 TARJETA REGALO DE NAVIDAD
¿No sabes que regalar estas navidades? Aquí te damos la IDEA PERFECTA para las personas amantes del triatlón…🎁 Regala salud, regala motivación, regala experiencias, regala retos, regala emoción, REGALA DEPORTE, REGALA MALLORCA, ¡REGALA CHALLENGE PEGUERA MALLORCA 2023!.
Te ofrecemos la posibilidad de regalar una INSCRIPCIÓN para la carrera que ha sido elegida este año como la MEJOR CARRERA DE CHALLENGE FAMILY, uno de los mejores triatlones de media distancia del mundo. ¿Qué mas necesitas para convencerte?
Cuando: 14 de octubre de 2023
👉 Circuitos espectaculares que recorren una de las partes más impresionantes de la IslaAmazing courses through one of the most amazing parts of Mallorca island.
👉 La forma perfecta de acabar la temporada de triatlón (deporte y vacaciones)
👉 Un programa amplio y completo para toda la familia y amigos
👉 Acabar tu temporada en Mallorca
CHMALLORCA23 TARJETA REGALO DE NAVIDAD
¿CÓMO ADQUIRIR LA TARJETA REGALO CHMALLORCA23?
Entra en nuestra TIENDA CHMALLORCA y elige el producto E-GIFT CARD. Completa los datos y realiza el pago. Una vez lo hayas hecho, te redirigiremos a un formulario en el que podrás PERSONALIZAR LA TARJETA, con el nombre de la persona a la que le quieres hacer el regalo, su foto, y si quieres que le enviemos nosotros directamente la tarjeta o quieres hacerlo tú. Puedes comprar esta tarjeta hasta el 30 DE DICIEMBRE DE 2022 
Ya lo sabes, ahora tienes la excusa perfecta para tener ACOMPAÑANTE/S en tu aventura en CHMALLORCA 2023.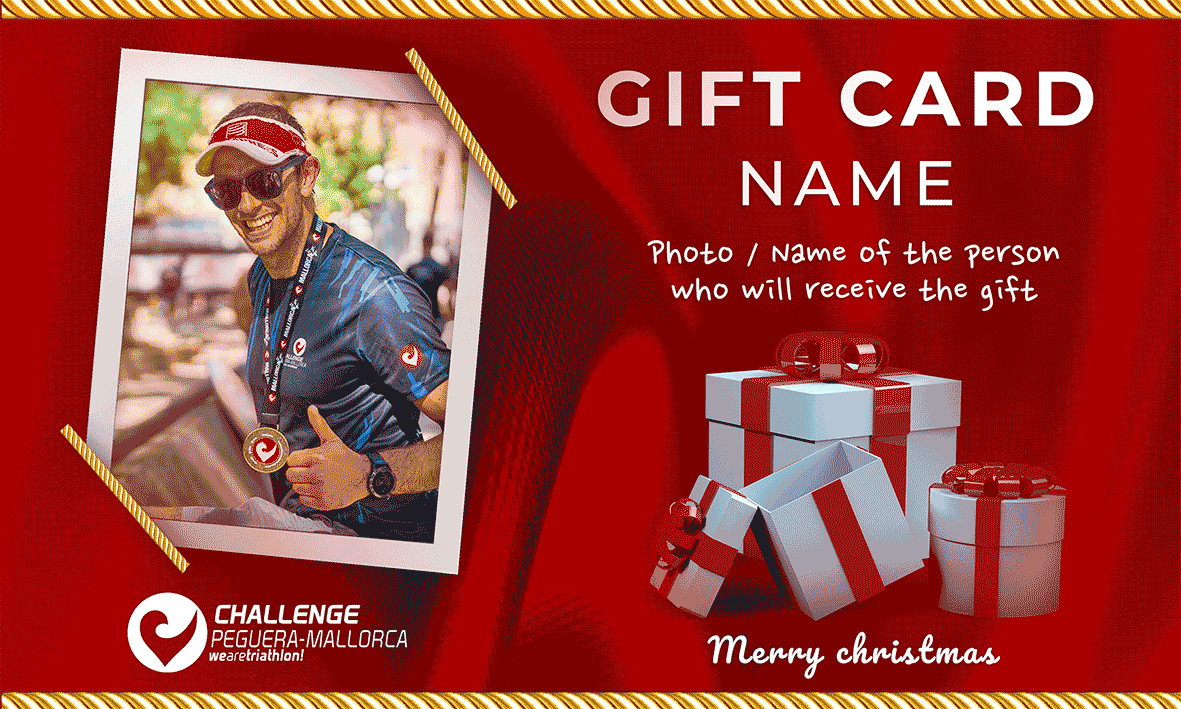 CHMALLORCA Gift Card: the Christmas gift for triathletes