Hi Athlete!
Thanks for be a part of the Challenge Peguera Mallorca 
We have managed this digital goody for you. Here you can find discounts, offers and promotions in some of the best atractions and local shops, you can profit during your stay in Peguera. Furthermore the site includes info about the venue and key documents of the race.
The discounts, offers and promotions will be available until 23th of October 2022.
We hope you find it useful and that it will help you to make the most of your stay in the island.
Have fun exploring!
FROM 10th TO 23th OF OCTOBER
JUNGLE PARC MALLORCA
-25% IN JUNGLE PARC
Discover the largest tree adventure park in the Balearic Islands!
Located in Santa Ponça, (Calviá). 500m from the beach, come and enjoy different circuits.Sports and adventure guaranteed with circuits that allow you to spend approximately 1 hour without touching the ground! You will be required to move from tree to tree, using bridges, ropes, vines and lots of long zip wires!
From 10 to 23th of October
Discount on the COMBO PACK (Explorador+Extremo routes) 27€ –> 20 €
MARINELAND
-30% IN MARINELAND
Marine life theme park located in Costa d'en Blanes beach in Calvià. Although Marineland specialises in marine species (hence its name), it also offers a wide range of land animals – many of them from tropical countries. Animal exhibits, aquariums, aviary, dolphinarium, tropical house… Live the experience and enjoy the family day in Marineland
From 10 to 23th of October
KATMANDU PARK
-30% KATMANDU PARK
Adventure awaits at Katmandu Park in Magaluf. Step into a mythical world of unexpected adventure, exciting rides, epic 4D encounters, themed minigolf and splash park chills! From enchanting family fun to mind-blowing adventures for thrill seekers. 30% discount on the box office price. From 10 to 20th of October

PEGUERA SWIMMING POOL
Tap to do the reservation
-FREE INDOOR SWIMMING POOL
Athletes registered in Challenge Peguera Mallorca have free access to train in the 25 m indoor pool of Peguera from October 10th to 23rd. You must make a reservation at the link and at reception you will have the list of participants.

AUTOS BALEARES
-15% IN AUTOSBALEARES
When renting any of our vehicles you can enjoy free unlimited mileage, we want you to enjoy Paguera and Mallorca. Enjoy the benefits of a free fully comprehensive insurance without excess in all our vehicles. Feel safe and carefree. We do NOT keep any kind of deposit.
From 10 to 23th of October
KARTING MAGALUF
2×1 OFFER
Go-karting for all ages. Both individual and group rental. The best way to experience the sensations of F1 during your holiday (training laps, races, etc.). Different options for all the family (childs, adolescents and adults)
2 for 1 offer on 15-minute tickets. From 1st to 31th of October

BOUTIQUE MADI'S
-15% BOUTIQUE MADIS

Sale of sportswear and sporting goods. 15% discount applicable on non-discounted products. From 10th to 23th of October

PASTELERÍA CAMPOMAR
-10% ON LARGE ENSAIMADAS – PASTELERIA CAMPOMAR
Don't forget to try the best desserts in Mallorca. The Pastry Shop Campomar offers you a spectacular assortment of home-made local products, including ENSAIMADAS, COCARROIS, EMPANADAS, CAKES, CROISSANTS, SANDWICHES… to take away or to eat there. 10 percent discount on large ensaimadas, which must be ordered 2 days in advance. From 10 to 23th of October
GOLF FANTASÍA
-30% GOLF FANTASÍA
Enjoy 3 different 18 hole courses that include caves, tropical gardens, and towering waterfalls! See who in your group can have the bragging rights as the best player with the lowest score over these 54 holes.
A green paradise in the heart of Palmanova just meters from the beach front. Fun, sport and entertainment for all age. 30% discount on the box office price for 54 holes. From 10 to 20th of October.
RIDEMALLORCA
-10% RIDEMALLORCA

Enjoy a 10% discount on the bike rental services offered by RIDEMALLORCA in Peguera. You have different models of bicycles to choose from.
10 to 23 October
CORE NUTRITION
-20% IN CORE NUTRITION
Don't let bad nutrition get in the way of a great performance! Have you got your nutrition plan sorted for Challenge Peguera-Mallorca? We know you're putting in the miles for the swim, bike and run, but how about that fourth discipline, nutrition? Luckily the team at CORE Nutrition have a nutrition plan written specifically for Challenge Peguera Mallorca. You can access it for free here: https://app.fuelthecore.com/applications/core/events/cf-md3-2022 and if you'd like to upgrade to a premium subscription, you can get 20% off with the code CF-PM22. So head over to CORE Nutrition now and take the guesswork out of your nutrition planning.
ZONE3
-20% IN ZONE3
The season is well and truly upon us, and we hope you're all raring to go for any upcoming events and races.
ZONE3 as your Official Swim Partner, we want to ensure we are supporting you in having the best kit possible for race day.
Enter code [EP-CHALLENGE20] for 20% off ZONE3. Head to ZONE3 to shop your race day essentials and enter the code at checkout.
HALF MARATHON MAGALUF 23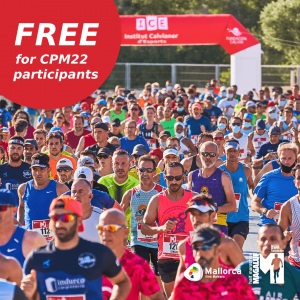 -FREE HMM23 FOR CPM RACERS!

Discount valid ONLY for CPM22 triathlon participants. We want to reward your commitment to CHMALLORCA. We want you to feel that we are very grateful that you have chosen us and that you have the opportunity on 22th April, 2023 to run the most spectacular half marathon in Mallorca.
If you are interested in participating in HALF MARATHON MAGALUF 2023, please complete this form and we will prepare the free registration code for you after CHMALLORCA22.
Until 23 October
GALATZÓ TRAIL
-5€ IN GALATZÓ TRAIL
Discount valid ONLY for CPM22 triathlon participants. On March 12th 2023 you will have the opportunity to enjoy the sport in an idilyc location, Mallorca. The Galatzó TRAIL MALLORCA MOUNTAIN MARATHON offers you:
2 Trail running race distances (43 & 23 km) 100% trail
Amazing and challenging courses
Don't wait any longer to book your place…
HOTEL LA CONCHA SOUL
-10% € IN LA CONCHA SOUL HOTEL
La Concha Soul Hotel offers a 10% discount for stays in 2023 when booking before 31/12/22.
To redeem this discount, you must book on the hotel's website.
La Concha Soul is a Boutique Hotel with a musical theme (Soul, Jazz, Blues) located in Peguera. It offers a personalised service and a wide range of services.
HOTEL PALMIRA MADRIGAL ****
FREE UPGRADE – HOTEL PALMIRA MADRIGAL
Free upgrade to Junior Suite for the first 10 bookings of more than 3 days through our website. Indicate in the booking form that you are participating in Challenge Peguera Mallorca 2022 to apply for an upgrade.
Hotel Palmira Madrigal is a recently refurbished 4-star hotel, with a modern and Mediterranean style, which offers a friendly and familiar treatment to its guests, as well as the best atmosphere. It is a quiet and ideal hotel for couples, families, cycling enthusiasts or hikers who come to discover the best routes in Mallorca.
CUPIDO BOUTIQUE HOTEL
-10% IN CUPIDO BOUTIQUE HOTEL
10% discount for bookings in April, May and October 2023. Indicate in the booking form that you are participating in Challenge Peguera Mallorca 2022 to apply the discount.
The Cupido Boutique is located in the centre of Paguera, 100m from the beach. It has a terrace with sea views, equipped with two Jacuzzis, Sauna, heated beds, Balinese beds and a small gym. All our rooms have a fridge, A/C and coffee machine.
GRUPOTEL NILO & SPA
TAP TO VIEW CODE
SEND AN EMAIL TO THIS ADDRESS: reservas.nilo@grupotel.com
-10% IN GRUPOTEL NILO & SPA
10 percent discount on the price on the booking website. In order to get the discount, please send an email to reservas.nilo@grupotel.com
This hotel is just 200 m from Palmira Beach and offers well-equipped accommodation and a magnificent outdoor swimming pool. Guests have access to the spa.
Challenge Mallorca Middle Distance triathlon

15th October 2022
1,9 km swim – 90 km bike – 21,1 km run
The Challenge Peguera-Mallorca middle distance triathlon has all the features you may ask for in a triathlon:
A golden beach with

crystal

 

clear

 

water (Torà beach)

A technical bike route through an amazing countryside scenery

An urban and littoral running course full of enthusiastic people cheering.
The European season ends in paradise. The Challenge Peguera Mallorca is the perfect middle distance triathlon to close your year in the heart of the Mediterranean.
Are you ready to Challenge this?
Swim course (1,9 km)
The swimming circuit takes place entirely in the beautiful, central and busy Playa de Torà. This is a SPECTACULAR segment, as from the 2022 edition participants will swim the 1.9 km in two laps, exiting the water to re-enter again.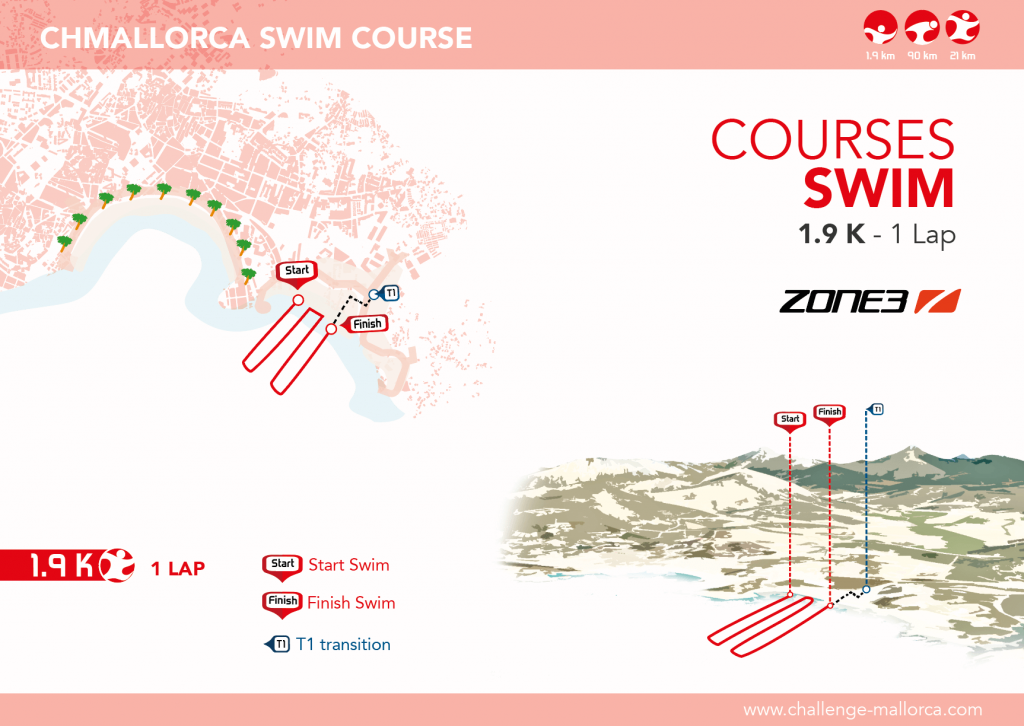 Bike course (90 km)
Mallorca owes much to its reputation as one of the most picturesque and spectacular 70.3 triathlons to its bike course. One thing is for sure: it's not completely flat. It has some rolling and some hilly segments but also speedy sections where bikes can speed up to 60km/h. The course is full of landscapes, it's technical and demanding and at times faster than other triathlon courses.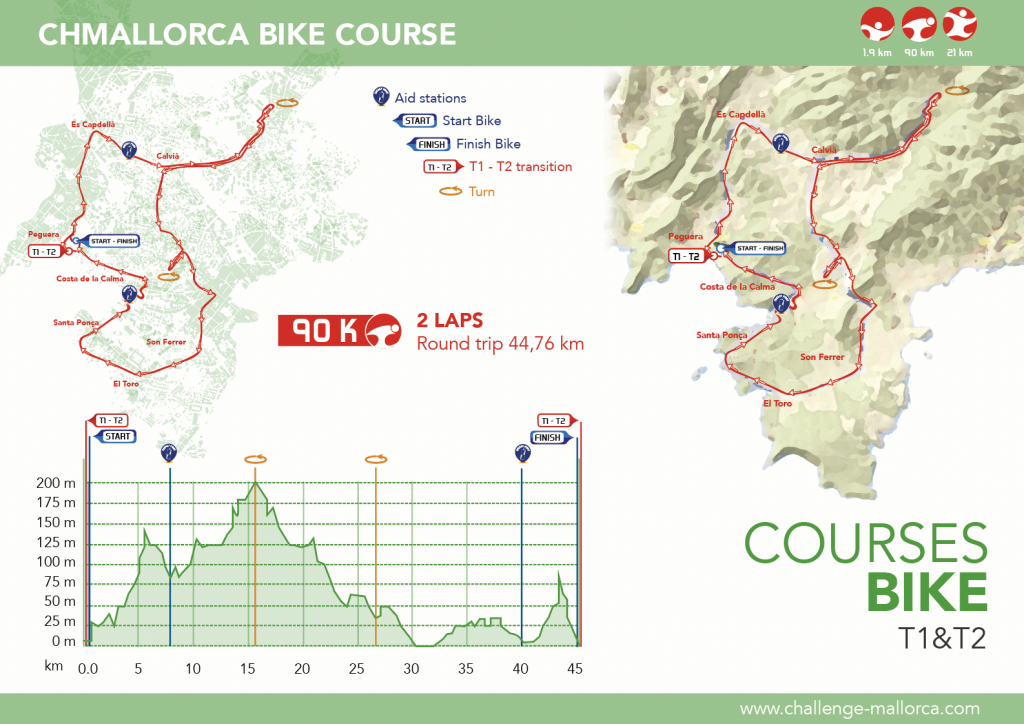 Run course (21 km)
For the 2016 edition we have made different changes in the run circuit in order to make it more flat and giving value to the most spectacular areas of Peguera: the maritime broadwalk and the boulevard. The result is an entertaining circuit that runs through the center of the village, with public and animation throughout the race.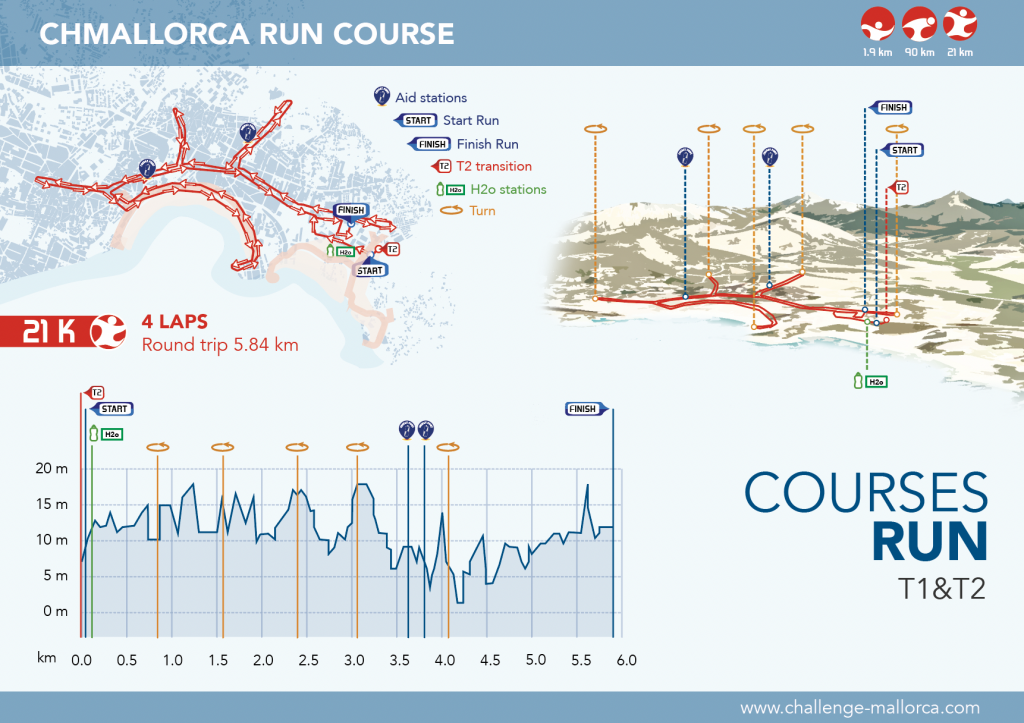 TIME SCHEDULE
Here you have the schedule of the race day. If you want to know all the race week program (parallel activities, etc.) of the Challenge Peguera Mallorca, press here
SATURDAY 15TH OF OCTOBER
TIME
ACTIVITY
LOCATION
8:25 to 8:40 h

Warm up

CHMALLORCA middle and relay

Torà

beach

8 to 8:45 h

Swim

warm up

Torà

beach

9 h

Start

CHMALLORCA middle and relay

Torà

beach

10 h

Expo &

Fair

Finish line area (Plaza de Torà) (map)
10:35 h

Swim cut

off time

T1&T2

13:30 h

Flower

ceremony middle distance PRO men

Finish line area (Plaza de Torà) (map)
14:30 h

Flower

ceremony middle distance PRO women

Finish line area (Plaza de Torà) (map)
14:30 h

Bike cut

off time 1

KM 75 of

the bike course

15:15 h

Bike cut

off time 2

T1&T2

15:30 to 19 h

Bike

storage opens for pick up bike

T1&T2

19 h

Awards

ceremony

Finish line area (Plaza de Torà) (map)

20 h

Closing

event

Finish line area (Plaza de Torà) (map)

CHMALLORCA

racers party

Beverly

playa hotel
What's in the Challenge Race Kit?
At registration all athletes will receive a bag containing the following items:
backpack
Athlete wristband
green bag (post race)
red bag (bike)
blue bag (run)
Coloured swim cap
tattoo (swim course)
BIB number
Bib number for your bike
CHFAMILY Nutrition guide
start number
envelope with number stickers (helmet 3 for your transition bags) 1 Bike cover
… and more surprises!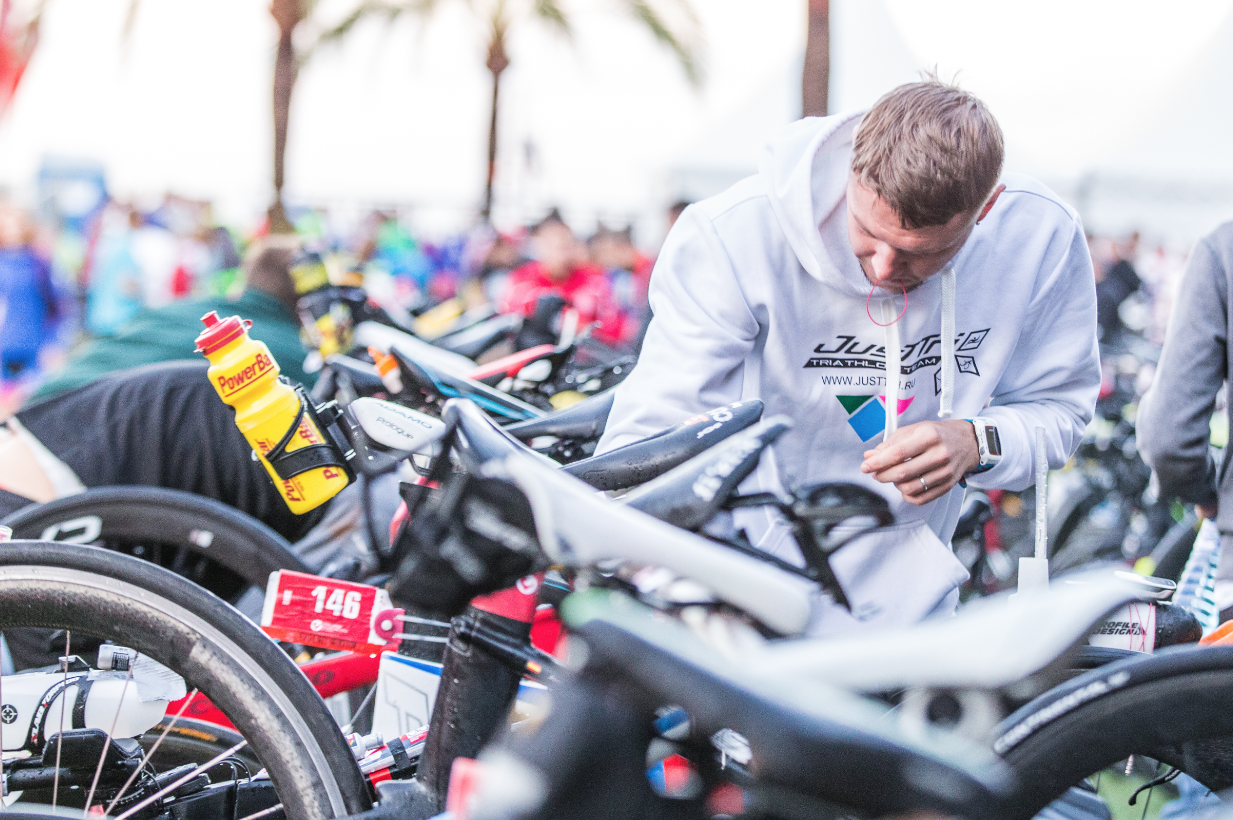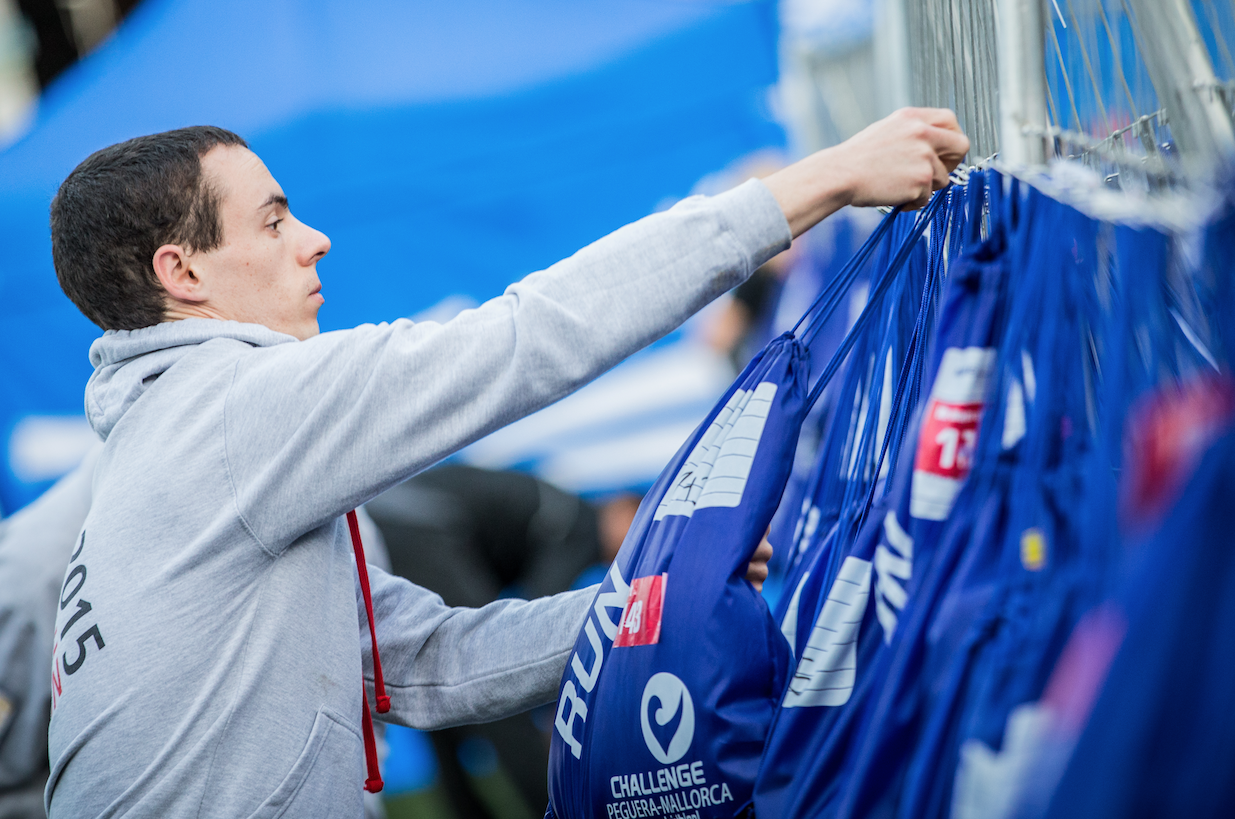 BRIEFING & ATHLETE GUIDE
Have questions? Everything you need to know about the race is in the Briefing & athlete guide of the Challenge Peguera Mallorca triathlon.
Please read the guide thoroughly. The athlete guide 2021 will follow a month before the race.
Note: The information in the Athlete Guide is subject to change.
Please keep an eye on our website and follow us on Facebook to stay informed about important updates. Please also make sure to attend a pre-race briefing (see event schedule for briefing times specific to your language).
Athletes Guide
You Download now the CHMALLORCA English Athletes Guide 2021 here if you want to know more or less the basic information of the race. This guide is for all Middle distance athletes.
The Challenge Peguera Mallorca race briefings contain the latest news about the race, updated information about the different circuits, the weather forecast, the refreshment stations and other regulations. It is mandatory for all athletes competing in Challenge Peguera Mallorca to know them.
Briefings AGE GROUPS
Friday, 14th October
PRO BRIEFING – TBA
GERMAN BRIEFING – TBA
ENGLISH BRIEFING – TBA
SPANISH BRIEFING – TBA 
PEGUERA – MALLORCA
Bienvenidos a Peguera, localidad turística de Calvià ubicada a escasos 20 minutos de Palma.
Peguera destaca por playas espectaculares de fina arena blanca y aguas transparentes y por sus calas paradisíacas a tan solo unos pasos de un centro urbano animado, moderno y con todos los servicios.
Otros atractivos de la zona son sus bonitos paseos marítimos, el amplio bulevar que conecta todo el centro de la zona, y los magníficos servicios de gastronomía, ocio, alojamiento que se encuentran en Peguera.
Peguera es mucho más que sus increíbles playas o su amplio catálogo de servicios. Su extraordinario entorno natural y su magnífica infraestructura hotelera le sirven, entre otras cosas, para posicionarse como un destino ideal para la práctica deportiva y senderista durante todo el año, especialmente durante los meses de invierno.
Si Peguera destaca por sus playas, la vecina zona de Cala Fornells lo hace por sus calas, localidad de obligada visita, que evoca la esencia mediterránea de edificaciones colgantes junto al mar entre una naturaleza privilegiada.

Mostra de cuines Octubre
Edición 2022
La Mostra de cuines de Calvià es un evento gastronómico que se celebra en los restaurantes del municipio y que tiene lugar dos veces al año, antes y después de la temporada festival.